For a community to function safely, Traffic Signs are a top priority. They make us stop, warn, and guide us in the everyday hustle-bustle. Half of the human population would be confused and lost without the traffic signs. However, traffic signs have been around for centuries, but they became increasingly popular after the 1930s. That was the period when automobiles were growing at an impressive pace. And now, it is 2022, and they are still popular and serve of extreme importance. Whether making a commercial area or a residential area, you need traffic mailbox signs to better your community. All mailbox provide instructions to the people, and there are various types of traffic signs. So, if you are wondering what would be suitable for your community, here is the answer. In this blog, you will discover the types of traffic signs and what purpose they serve. 
Essential Traffic Signs For The Community 
The purpose of traffic signs is to help people to remember and follow the rules and regulations, which avoids accidents and confusion. Based on this, there are three types of traffic message signs.
Regulatory signs 

Warning signs 

Guide signs 
Let's understand these traffic signs in detail. 
Regulatory Signs 
Regulatory traffic signs tell us what we can do and cannot do in agreement with the law. If you do not obey the regulatory signs, you are liable to pay fines. The regulations written on these signs advise us about speed limits, traffic directions, parking restrictions, etc. Following are some examples of the Regulatory Traffic mailbox signs.  
Stop signs 

Yield signs 

Railroad crossing

Do not enter 

Wrong-way

One way signs

Divided highway

No trucks 

Bicycles prohibited

No pedestrian 

Crossing prohibited

No U-turn 

left turn not allowed

No right turn 

Do not pass

Center lane left turn only 

Turn to left or right 

Straight or turn right 

Right only

Left only

Keep right 

Right turn signal 

Speed limit

No turn on red 

Left turn yield on flashing arrow 

Left turn yield on green 

Opposite traffic has extended 

Reserved parking 
Remember that all traffic message signs have their importance, and you cannot ignore them.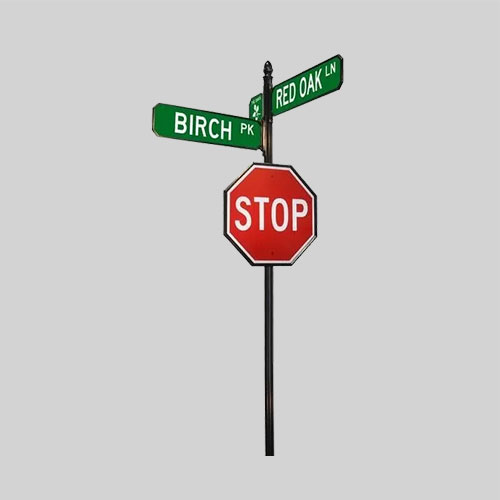 Warning Signs
Warning signs inform us about the condition on or near the road ahead. They warn us about the possible hazards and changes on the roads. Therefore, they are installed just before the mishap happens so you can make a wise decision. Here are some instances of warning mailbox signs. 
No passing zone 

Chevron signs 

Left curve 

Sharp right turn

Sharp left turn                                                               

Right curve, left curve 

Set of curves 

Right and left sharp turns

Road entering curve 

One-direction large arrow

Winding road 

Truck rollover

Advisory speed signs

Added lane 

Merging traffic 

Weave area

Divided highway begins

Divided highway ends

Two-way traffic ahead 

lane ends 

Intersection signs 

Two directions large arrow

Narrow bridge or underpass ahead 

Deer crossing 

Low clearance 

Slippery when wet 

Shoulder signs

Traffic signal ahead 

Stop sign ahead 

Hill downgrade 

Railroad crossing ahead  

Bicycle crossing ahead 

bicycle/motor vehicles share the road 

Advanced intersection/railroad crossing 

Pedestrian crossing

horse-drawn vehicle 

School ahead

Work zone- turn on headlights 

Roadwork ahead 

Lane closed ahead

Workers ahead 

Flagger head 

Construction traffic signs

 

Road construction ahead 

road closed flooding 
Usually, warning traffic signs are yellow, and the text is deep black so that you can see them from far.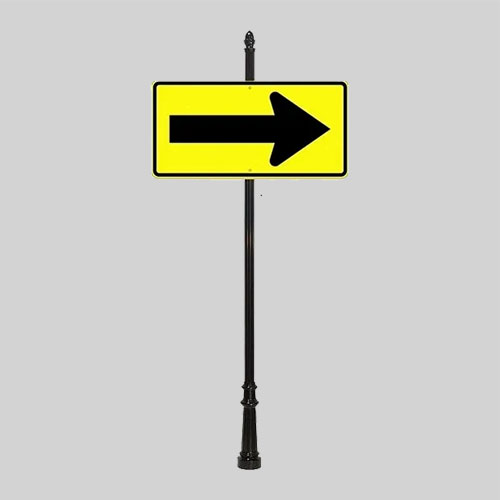 Guide Signs 
Guide signs provide us with crucial information about intersecting roads and help us directly to go through the city or towns. Also, they help us find hospitals, restaurants, and service stations. 
Highway expressway guide signs 

Mile markers 

Interstate numbering system 

Exit numbers 

Route markers 
Guide signs are big rectangular signs, usually in green color, and the text on them is white for visibility. 
These were some necessary traffic signs for the people of the community. Let's know how to install the ideal signs for the community. 
Vintage traffic signs were composed of heather colors with contrasting text on them. Furthermore, they had unique strolls and brackets to add an aesthetic touch. Vintage mailbox signs ensure security and enhance the beauty of your community. Furthermore, it increases the property value and creates uniformity in the neighborhood. You can even install lights in the same way. If you wish to install such aesthetic vintage traffic signs, then contact Mailbox And Sign solutions. 
Choosing The Right Traffic Signs
Traffic message signs are essential as they send out crucial messages to the people passing by. Therefore, you must never ignore traffic signs' design, formation, and material. Here's how you can take care of all the necessary details. 
The Pole Of The Traffic Sign
Most mailbox signs are mounted on a pole. So, it would be best to consider the shape of the pole while selecting the mailbox signs. Some poles are mounted cylindrical and smooth, whereas some are mounted on a fluted cylindrical pole. Fluted poles are excellent as they have notches in them. The small notches and grooves keep the mailbox signs in their place and ensure safety. 
For a more stylish appeal to your signs, you can choose a pole topper for the mailbox signs. It is simply a decorative piece placed on the top of the sign. Although pole toppers do not serve any functional purpose, they are used for aesthetics. mailbox signs are affixed to the pole, after which they are installed on the pole stopper. Therefore, these are frequently used for mailbox signs in commercial and residential areas. 
The Right Material 
One crucial thing to consider is the material of the traffic . The ancient mailbox signs were made of wood and got rotten because of the exposure to water. Moreover, materials such as steel and iron alloys get rusted for the same reasons. 
Select powder-coated aluminum. It is the ideal material to get signs made. Unlike steel and other iron alloys, aluminum doesn't rust from exposure to water. The powder coating over the aluminum prevents the material from rusting. 
The FHWA Breakaway And Non-Breakaway Policy
The US Federal Highway Administration (FHWA) has laid out specific rules for breakaway mailbox signs. The facility identifies breakaway traffic to break away when a moving vehicle is struck. You can install breakaway signs in your community to lower the risk of serious accidents. 
Read FHWA Breakaway and non-breakaway policy to understand the guidelines better and avoid disputes.  
Do you want to install traffic and street signs for your community? Visit the Mailbox And Sign Solutions. We will provide signages to create a uniform and aesthetic community. Upgrade the appearance of your community and ensure their safety by choosing the best sign installers. Not only that, you will find every sign on our website, including traffic, street signs, monument signs, and custom business mailbox. To know more about our work, contact us right away.