No matter how good quality products you buy, they will degrade with time due to various reasons. Today, mailboxes are designed while keeping the highest industry standards in mind; however, parts or pieces can damage over time. There are different causes that certainly you can't avoid, such as extreme weather conditions and vandalism that can break or disfigure doors. Honestly, it is impossible to ignore a broken mailbox door or mailbox equipment; otherwise, our valuable mails are easier to steal. As a result, you need mailbox door replacement to be on the safer side. There is a piece of simple advice to follow for your metal mailbox door replacement or any other mailbox door replacement for the matter. So, there is a complete guide for better understanding the whole process of how easily you can replace a mailbox door. 
Horizontal Or Vertical Mailboxes
Horizontal or vertical mailbox doors are found in older apartment complexes, mainly in the form of a surface or recessed mount. If you're facing any problem or require a vertical or horizontal mailbox door replacement, it is suggested to upgrade with a wall-mounted STD-4C mailbox or free-standing Cluster Box Unit. These latest security units offer advanced protection besides shared parcel locked compartments for secure storage of your packages. 
Sometimes people don't want to replace them because of their unique style. In that case, it is in the best interest to replace the entire unit to make sure the structural integrity of changing the door. If you have chosen this path, hire a professional service to replace the unit for you in the same configuration. However, no additional compartments can be removed or added. 
STD-4C Or CBU Mailboxes
CBUs and STD-4C are the latest mailboxes that meet all the modern standards and are also the favourite of many developers. A cluster box unit(CBU) is a freestanding and pedestal-mounted designed centralized mailbox for outdoor installation. Moreover, this can be preferred for individual or large group installations. Whereas USPS STD-4C mailboxes have a similar structure to that of CBUs, except they are meant to be wall-mounted indoors or outdoors. 
Additionally, they are available in different colors as well as you can save yourself from lots of trouble as it is very easy to find replacements for these units. However, these doors are manufactured to last longer and are designed as the most secure mailboxes.
Therefore, CBU mailbox door replacement is more convenient than any other mailbox door replacement.
We can't deny that this mailbox door replacement demands a little technical knowledge to remove a hinge pin rod mechanism. Here, if you observe any wrong with your mailbox door, feel free to approach the person who is the master in the mailbox replacement. 
What To Do If You're A Tenant
So even if you are a tenant, you can assess the issue. You can also take care of the mailbox door replacement or address the problems that are related to the mailbox, like the lock is not functioning correctly, physically damaged with dents or holes, or graffiti. It is recommended to approach a professional for help to replace it.
In fact, mailboxes represent the health and wealth of a community which indicates that your community is secure and safe. For your own security reasons, you should connect with an experienced person or your property manager to repair the damage or exchange faulty equipment. Take a piece of precautionary advice, don't try to restore yourself as this may further deteriorate your mailbox.
How Property Manager Can Deal
As a property manager, it is your responsibility to quickly replace the commercial mailbox door as it comes to your notice or damage complaint by a tenant. For the convenience of the residents, complete the required repairs and replacements as soon as possible. We suggest hiring a professional to do the job because it protects your security. 
By stressing this, it is best in your interest to contact a skilled postal specialist or Mailbox and Sign Solutions. 
If you don't give due attention to this, tenants would have trouble picking the mail at the Post Office, which can cause frustration for the tenants. So the quicker you fix the problem, the better it is. Besides, the property manager or HOA board members are responsible for maintaining the mailboxes. 
If you need to secure the door of the centralized mailbox, you need to approach the local USPS. Based on the local USPS operational guidelines or depending on the situation, they can discontinue your service if required until the mailbox compartment is restored. 
The property manager has an additional responsibility to decide on the matters related to the replacement's aesthetics and functionality features. Noteworthy, when you replace a broken unit, consider the cost of a 1:1, i.e., replacement vs. upgrading in terms of the latest postal-approved STD-4C units or stand-alone CBUs. Furthermore, it is essential to include the factors in refurbishing like durability, shared package compartments, and modern security features in the long term. 
Cluster Box units and STD-4C mailboxes are ideal because they let mail stay flat instead of rolled, which benefits by allowing extra space for larger pieces or mail. Nowadays, new models are developed handling the packages in parcel compartments that attach more value to the property. 
Looking Better Services
How can you decide whether you should buy a new mailbox or just a mailbox door replacement home depot is sufficient? Warranty coverage is crucial in determining the mailbox door replacement parts or fixing the whole. 
If you are looking for the finest services at affordable prices. Check mailbox and sign solutions for plastic mailbox door replacement services. We also offer various services like: 
Mailbox refurbish includes flag, numbers, and paint

Call to schedule a free site evaluation

Removal of old mailbox system

CBU installation services

Community mailbox installation services
If you still have any doubts about the security of your existing mailbox. Here, you can check our latest collection for mailboxes, bases, boxes, and brackets to select from these top products based on your requirements. 
CBU 8 Door – Decorative Mailbox

Are you seeking a mailbox for the small community? The CBU 8 Door- Decorative is a good option, and you might consider buying it. It contains eight sections for eight different people to get their mails and letters. This special mailbox will definitely add charm to your beautiful place. Visit our website to buy now. 
CBU 8 Door – Standard Mailbox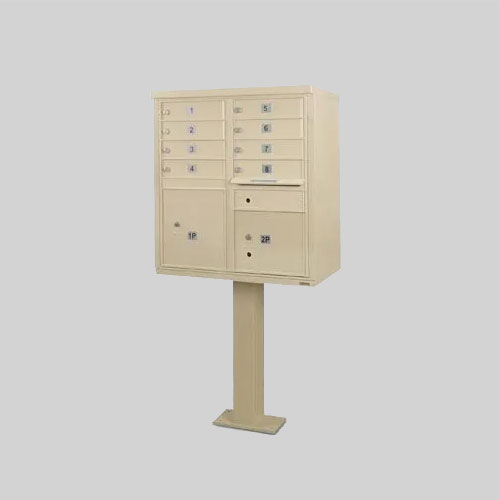 CBU 8 Door- Standard Mailbox is the most demanding product with the eight doors community mailbox. This is made with 100% powder-coated aluminium to give extra protection. Moreover, it is perfectly designed for receiving letters. Add to the cart to buy at the best price. 
CBU 16 Door -Decorative Mailbox

CBH 16 Door Decorative Mailbox is best suitable for community purposes. This is black and has a solid stand or base. In addition to this, it is desirable for the requirement of 16 people or families.  
If you are curious to find out different mailboxes, you can learn more about them from our website, Mailbox and Sign Solutions. In case, you need a dealer or replacement parts head over to the Mailbox And Sign Solutions for their amazing services.