A mailbox address sign is one way to display your home address. It helps people find your home address and adds decor to your mailbox. A well-placed and stylish address sign enables people to complement your mailbox. Before, these were used to display the number of your house. But slowly, people are using this to beautify their mailboxes. 
Setting up a beautiful address plaque quickly draws people's attention and helps them to find you. An address sign comes in many shapes, colors, sizes, and materials. So, you must choose the best one for your mailbox before mounting it. An address sign enhances how your mailbox is viewed from a street curb. 
Best Selling Mailbox Address Plaque
Whether you want a small plaque for your mailbox or a big one, it will surely enhance your curbside appeal. Before buying, you must consider the plaque's size, material, and color to make your mailbox look beautiful. Also, make sure the numbers printed on the sign are clearly visible. This blog will discuss the best-selling address signs you can buy to add to your mailbox. 
Address Plaque 10 X 16 PVC GLENVIEW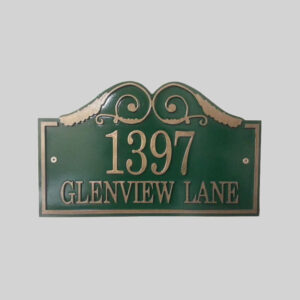 If you have a large mailbox and need the address sign that fills the mailbox area perfectly, this beautiful plaque must be a great choice. It is also perfect if you want the visitor to see your address. It is made with 100% powder-coated aluminum and comes in green and golden colors at affordable pricing. The plaque has a beautiful design cut at the top and a thick border on the other three sides. Also, the large address number in the middle and the name below will allow people to see your address from far away.  
Size: 10 x 16

Color: Green base with a touch finish

Material: PVC

Price: $95.00
Address Plaque 9 X 16 PVC ORNATE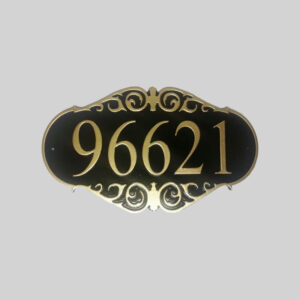 This curvy and stylish address plaque best provides a classic look to your mailbox. This black color address sign suits any color mailbox, especially light-colored ones. The product is made with high-quality material and comes in many sizes. The best part about this plaque is that it is very reasonable according to the material and beautiful design. The product is entirely black in color and has a design cut at the top and bottom of the plaque with a golden finish. The number is also printed in golden color, making the entire plaque look elegant. 
Size: 9 x16

Color: Black base with a golden touch

Material: PVC

Price: $95.00
Address Plaque 8 X 13 CORIAN IVY OVAL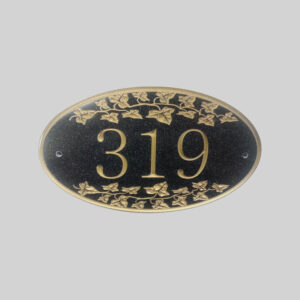 This plaque is one of the best-selling mailbox address signs. It is perfect if you want a simple address plaque with a minimal design to beautify your mailbox. This elegant-looking plaque is also made with high-quality material and comes in multiple sizes. You can choose the address sign size according to your mailbox size. Like the previous one, this product is also colored black but is oval in shape. It does not have any cut-out design. But, it has a beautiful leaf pattern design on the bottom and top of the plaque and numbers printed in the middle. 
Size: 8 x 13

Color: Black base with a golden finish

Material: Corian

Price: $95.00
Address Plaque 4X10 CORIAN RECTANGLE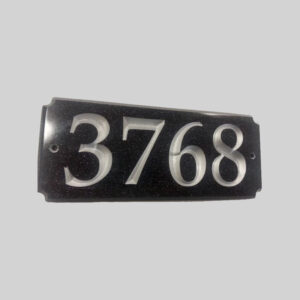 A simple and elegant look is what attracts a lot of people. If you are one who likes to keep everything simple, then this address plaque is a must-have. This rectangular product only features the bold address number on a black base and has no design. The plaque has numbers printed in white on a black base, clearly displaying the number to visitors. It is also manufactured with superior quality material and has long-lasting color. If you want to enhance the look of your mailbox without spending much, this address plaque is a perfect choice. 
Size: 4 x 10

Color: Black base and white

Material: Corian

Price: $75.00
Address Plaque COLOR CORE WHITE ON BLACK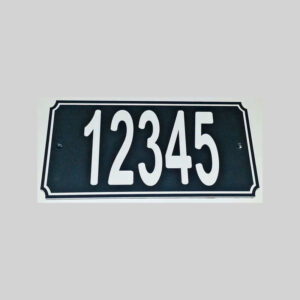 If you want an address plaque that completes your motto of providing information to the visitor, choose this simple-looking plaque. This black and white color plaque perfectly suits your mailbox and catches the visitor's attention. It also has a beautiful small cut at each corner that enhances the entire look of the mailbox address sign. It is a simple, affordable, quality material plaque that only displays the address number. 
Color: Black and white 

Price: $75.00
Address Plaque 6 X 13 COLOR CORE GREEN ON WHITE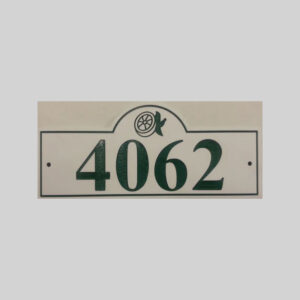 This simple address plaque will look beautiful if you like to go with a minimal design for your mailbox. This product, with minimum design, is perfect for your vintage-style mailbox. It also has the address number printed in green on a white base. It suits any dark-colored mailbox and completes the motto of providing information to the people. This affordable, as well as high-quality mailbox address plaque enhances the elegance of your mailbox. 
Size: 6 x 13

Color: White and green

Price: $75.00
Address Plaque-5″ VERTICAL STAND OFF NUMBERS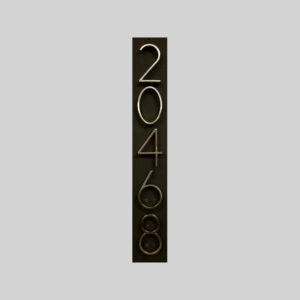 This vertical stand-off address plaque is great for providing a modern look to your mailbox and adding style. This dark-colored mailbox address sign suits any light-colored mailbox. It goes best with the white-colored mailbox that perfectly reflects the number. This product is the best to draw the attention of the people as well as clearly display the number with style. Moreover, the price is also completely worth the quality of the plaque.  
Size: 5″

Color: Blue

Price: $125.00
Conclusion 
An address sign is essential to identify your house or receive any parcel quickly. It is also vital for the emergency services personnel to locate your house and provide service during an emergency. So, you must place it correctly and ensure it is readable to people. Also, ensure the address number is correct and is printed in suitable color. 
Whether you like a classic piece of address plaque or a modern one, you can find a variety of them from Mailbox And Sign Solutions. Our online collection has a vast range of different styles of mailbox address plaques made with high-quality material. We are the leading manufacturer providing a custom mailbox address sign at a low cost. Moreover, we also offer a custom mailbox, street sign, repair and installation service, etc. To buy our products and services, you can visit our online store or
contact us at 407-366-6565(Office). 
Frequently Asked Questions