Community mailboxes are installed outdoors, sometimes in the park or sidewalk. It entirely depends on where the community wants to set up the mailbox. Each house has a mailbox key that you can unlock when required. When a delivery person comes with your parcel, they drop it into your mailbox. You can open your mailbox using a key and get your package. Mailbox And Signs Solutions is a leading manufacturer that provides high-quality best-selling community mailboxes for sale. 
Installing a community mailbox is a perfect way to allow each community member to receive their parcel with complete security. It also provides an effective mail delivery system when you are at work or somewhere outside. Your parcels are kept secure in a locked box that you can only open with a key. It is the safest way to receive packages instead of leaving them at your entrance gate when you are out. Also, you are not required to visit the postal counter to receive your parcel that was not delivered because of a locked door. 
Our Highly Rated Mailboxes to Buy
A community mailbox, also called a cluster box unit (CBU) mailbox, provides a centralized mailbox solution. Below are the high-quality material mailboxes built with locked-based compartments. All these mailboxes are made with excellent quality as well as durability. Also, all of them are water and corrosion-resistant. 
CBU 12 Door – Standard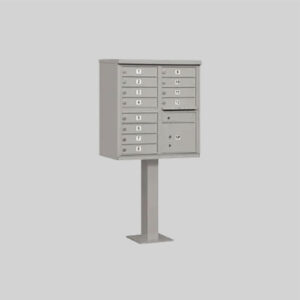 Made with the finest quality material, this is a perfect mailbox if you are looking for a scratch and weather-resistant community mailbox. This front-loading CBU mailbox has a pedestal and an access door with a master arrow lock. It also has an outgoing mail collection slot. Each mailbox compartment is numbered in sequence so you can identify your slot. 
Color: Gray
Number of Doors: 12 
Material: 100% Powder Coated Aluminum 
Price: $2,550.00 
CBU 12 Door -Decorative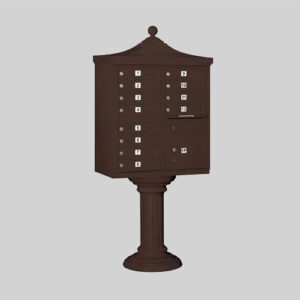 It must be the best fit for your community if you want to install a beautiful decorative mailbox. It not only fulfills the purpose of receiving mail but also enhances the area's beauty. The mailbox is made of heavy-duty material and has multiple drawers with matching pedestals. It is ideal for residential as well as commercial developments to receive parcels or letters. 
Color: Brown 
Number of Doors: 12 
Material: 100% Powder Coated Aluminum 
Price: $3,175.00
CBU 16 Door -Decorative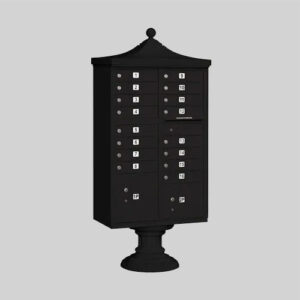 If there is a need to fulfill the mail delivery purpose of a large number of people, then you can choose this beautifully designed mailbox. This decorative mailbox has 16 drawers, each of which has a number. It is also made with a firm stand that perfectly bears the weight of the mailbox. You can quickly receive your mailbox with complete security in this locked-based mailbox. 
Color: Black
Number of Doors: 16
Material: 100% Powder Coated Aluminum 
Price: $3,245.00
CBU 16 Door Standard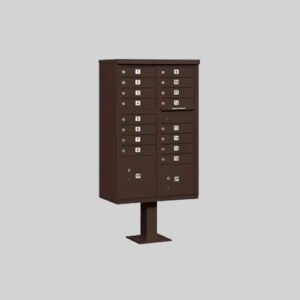 You can choose this one if you are looking for a decent-style community mailbox at a low cost. Unlike decorative ones, you do not have to spend too much on this standard mailbox. It also has 16 slots with two completely integrated parcel lockers. Each door is provided with a lock and is numbered. It perfectly fulfills the need of 16 families for incoming and outgoing mail. 
Color: Brown 
Number of Doors: 16
Material: 100% Powder Coated Aluminum 
Price: $2,675.00
CBU 8 Door – Decorative

This small decorative mailbox is ideal for a small community. It has eight doors for eight different families to receive their letters and mail. Along with this, it also has two extra large slots for receiving parcels. This perfectly designed mailbox with elegant color makes the entire look of the mailbox impressive and beautiful. This heavy-duty, as well as water-resistant mailbox, provides an easy and secure way to get mail. 
Color: Creme
Number of Doors: 8
Material: 100% Powder Coated Aluminum 
Price: $3,150.00
CBU 8 Door – Standard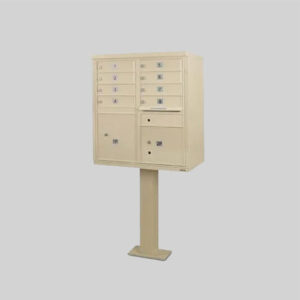 It is an ideal mailbox for a small community at a low price. It is our most demanding community mailbox and is suitable for a small community to receive letters. The mailbox is popular for its superior quality as well as excellent outdoor durability. It comes with eight drawers, each designed with a lock to secure your letters or parcels. It is a suitable choice if you want an affordable mailbox made with a high-quality mailbox. 
Color: Creme
Number of Doors: 8
Material: 100% Powder Coated Aluminum 
Price: $2,525.00
Also Read:- Best Mailbox Address Sign To Buy
Conclusion
Community mailboxes offer a convenient method for all your incoming and outgoing parcels. These mailboxes are beneficial for getting your letters or parcels, even in your absence. They also improve the delivery system and provide security to your letter and essential documents. 
Whether you want a standard or decorative mailbox, Mailbox And Signs Solutions is a one-stop destination for all types of mailboxes. All our mailboxes are made by experts using the best quality material. You can choose a suitable mailbox size per your community at a very affordable price. We guarantee to provide products that last a long time while elevating the look of the place. 
You can visit our official site to shop for the best community mailboxes for sale. Along with that, we also provide installation and repair services for your mailbox. Our quick, quality service will also surely fulfill all your needs at the best price. 
Frequently Asked Questions