Nowadays, messages and emails are easy ways to connect with our close ones. However, getting mail is still the most classic and beautiful feeling. A mailbox is necessary to get certain mail. It plays a significant role in maintaining the quality of your home's check appeal. And because this mailbox post is so important to enhance your home appearance, Mailbox & Sign Solutions offers you a Double Mailbox Post to add charm to your pretty home.
Double or curbside mailboxes are installed outside the houses and can only be used by your family members or your close ones if shared. You can find curbside fixed across the streets, in residential areas, sidewalks, and parks. These kinds of mailboxes consist of only two holders for your family member. 
5 Reasons You Need A Private Double Mailbox
Here are the top 5 reasons to tell you about the need for a private double Mailbox:
1. Security
Mail is usually a target of thieves because it sends confidential and valuable items like checks, credit cards, bank statements, and personal documents. Mailbox theft leads to loss of property, credit card scams, fraud, and identity theft. Private mailboxes benefit from safe and secure shipping of essentials and keeping them locked under full security observation. Hence, you will have an assurity about where your parcels and emails are.
2. Privacy
A private mailbox ensures your privacy and safety by permitting you to have a different mailing address than your residential address. This means you don't have to reveal your home address, and running your business from your place is extremely convenient.
3. Easy Access
Private mailboxes benefit from an easy approach to your mail full time a day, unlike post office boxes that might be reachable only during work hours.
4. Convenience
Private mailboxes provide the useful service of free call-in mail checks. You can contact your private mailbox shortly to verify whether there is any mail to hand pick rather than checking the box by yourself.
5. Email Notification
Private mailboxes also provide the added service of mailing notification whenever a parcel is collected. It will help you to receive your package in a timely and suitable manner.
The Top 10 Double Mailboxes 
The section below will help you pick your favorable double mailbox posts for your home or yard.
ABIGAIL 010-2 WHITE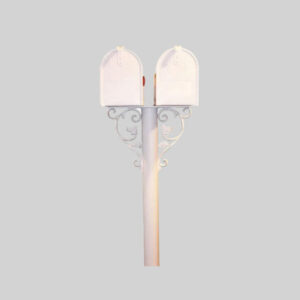 This mailbox characterizes the finest design that gives check appeal to any house or business. Its design and hard-form metal formation make this contemporary mailbox the best choice.
Moreover, these double-white mailboxes are rust-proof and can save many parcels safely.
| | |
| --- | --- |
| Colour | White |
| Metal | Solid cast metal |
| Feature | Rust-resistant |
Our product features:
A classic shape with a refreshing design that comes with side panels 

Embossed door where you can easily write your house number. 

Support door bracket to provide extra durability.

The access door for the mailbox has a wide opening making mail removal easy.

Easy to install and assemble.    
AMERICAN 110-2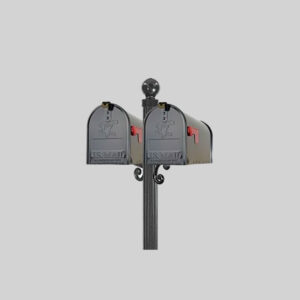 These mailboxes are built from galvanized steel with an extra powder-plated finish for service for a lifetime. With an impressive first opinion for your home, it offers beauty and control appeal to your foreyard. This mailbox is formulated to easily protect and store various small packages and save your parcels from the components.
| | |
| --- | --- |
| Colour | Grey |
| Metal | Galvanized steel |
| Feature | Store many parcels |
Our product features:
It is made using galvanized welded steel, offering a clean look.

Features rigid finish of powder coating. 

An accessible solution to two mailboxes on a single post.

Comes with all essential hardware to give an easy installation.

Proper space for parcels or packages.  
AMERICAN 111-2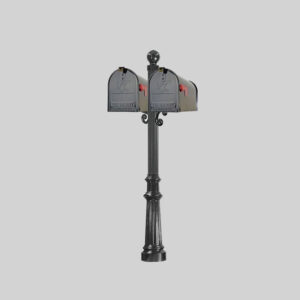 This double mailbox post provides a modern design choice to be outside your house. It is built with standard metal plated with aluminum from top to bottom. Features a rust-proofed powder-plate finish, this product arrives at great pricing.
| | |
| --- | --- |
| Colour | Rusty Grey |
| Metal | Aluminum  |
| Feature | Rust-resistant |
Our product features
Traffic-free access to the mail with the availability of rear access.

Made of aluminum, it provides rust-resistant properties. 

It comes with a double reinforced door which increases its strength.

Powder-coated grey finish saves it from external elements.

The big size makes it easy for package deliveries. 

Magnetic door latches help in keeping the door closed and secured.   
AMERICAN 121-2-TP1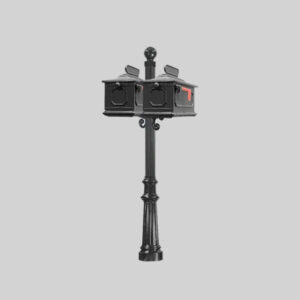 These American mailboxes are an American series of mailboxes that arrive in a superb bright black color and provide a simple design to be outside your house. It is built with great-quality metal and plated with aluminum from top to bottom. This mailbox can protect and store multiple-size packages and arrives at perfect pricing.
| | |
| --- | --- |
| Colour | Black |
| Metal | Aluminum |
| Feature | Store multiple-size parcels |
Our product features
Great size inner compartment that can store boxes, parcels, and mail.

Heavy gauge aluminum body with door pins and corrosion resistance.

Magnetic doors keep the door firmly closed for extra security.
CHANDLER 110-2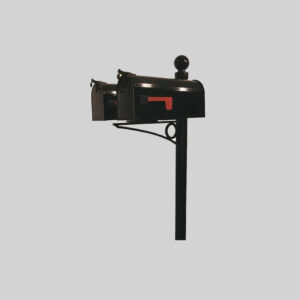 This double mailbox post is a hard black front-launched product you can get at the best price. Suppose you are seeking a mailbox with a lengthy pole for your home frontier. In that case, you may like this Chandler 110-2 mailbox built with 100% powder-plated aluminum.
| | |
| --- | --- |
| Colour | Black |
| Metal | Aluminum |
| Feature | long pole |
Our product features:
Easily retrieve your mailbox from the rear of the mailbox.

Rust-resistant and made of aluminum.

Safe from outdoor elements as it is powder coated.

Spacious enough to place parcels and mail together.

Magnetic doors for extra security. 
Read More:- Top 6 Community Mailboxes For Sale
CHARLESTONIAN 221-2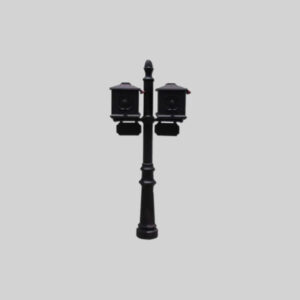 Charlestonian 221-2 is one of our customer's preferable designs for the mailbox. This double mailbox is house-shaped and black, with a lengthy pole, and this mailbox is reasonably priced. 
| | |
| --- | --- |
| Colour | Black |
| Metal | 100% rust-free aluminum |
| Main Feature | Durable |
Our product features
A classy sturdy double mailbox that can be easily assembled and installed.

Entirely metal and has a rust-free construction that offers a classic curb appeal.

A strong powder-coated finish makes it resistant to outdoor elements. 

Easily store bigger packages and have a sturdy design.

The house address number comes with the purchase.
Conclusion
If you are looking for a double mailbox post for sale that can enhance the appearance of your home, then here your search has ended. Because here at Mailbox and Sign Solution, we have the best quality mailboxes that last a long time and do not get easily damaged.
We not only provide double mailbox posts for sale, but we also offer you mailbox installation service. You don't need to worry about mailbox installation because we cover that too. To avail of our services, kindly
contact 407-366-6565(Office),
or you can mail us at [email protected]. 
Frequently Asked Questions
Always decide the type of mailbox you want and then look for an ideal size according to your preference and house type. And Check if the material is durable and rust-proof to last long.
It would help if you had an allowance from your closest post office or mail person before installing your mailbox support or mailbox.
No, You always install a mailbox in an area where a person can access the mailbox. Like, roadside mailboxes are usually installed on the right side of the road.