Looking for a bracket for your mailbox at a reasonable price? Well then, your search ends here.
A mailbox is essential for receiving your mail or parcel even if you are not present at your home, and the bracket adds elegance to the overall look. A bracket is a perfect way to increase the charm of your mailbox. Whether you like traditional, contemporary, or rustic style, you can buy any style of mailbox bracket as they come in different sizes, designs, shapes, colors, and materials. 
Along with providing a great look, a bracket is also helpful to hold and support the mailbox in its place. All you need to do is adjust and install the bracket in the right way. Also, a suitable bracelet is necessary for the entire mailbox to look polished and assembled. To get a reliable, sturdy, and beautiful-looking bracket for your mailbox post, check out the best brackets provided by Mailbox And Signs Solutions. 
Pro Tip: All these mailbox brackets are made with high-quality material and are resistant to heat, water, and weather. 
Abigail Double Mailbox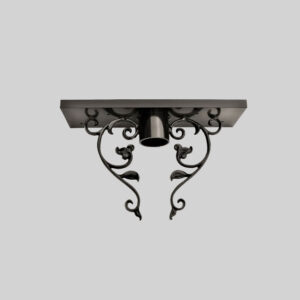 A beautiful bracket that instantly catches the attention of visitors. It serves your purpose and elevates the entire look wherever you place it. This beautiful metal mailbox bracket is best for you if you have a double mailbox. It holds the mailbox and can also be used as a wall stand for decor items in your home or workplace. You can use this bracket for different purposes, as it holds the weight perfectly. Furthermore, these long-lasting brackets can be used for years without any maintenance. 
American Single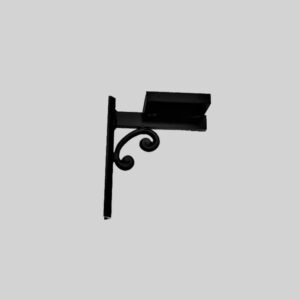 This basic bracket is ideal if you have a single mailbox. It perfectly enhances the elegant look of your lawn and the curb appeal at a very low price. You can also place the bracket in many different places inside or outside your home. Furthermore, it can be used to put a pot, a small statue, books, and many other items. It also provides a royal look, and keeping a masterpiece on it enhances its charm. 
Asbury Newspaper Holder Single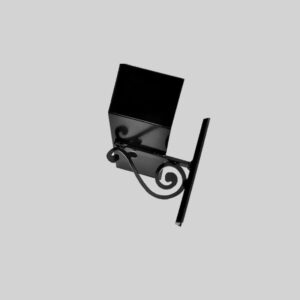 This black-colored bracket is for the one who likes reading a newspaper. This excellent product will allow you to get your daily newspaper in an organized way. It also enables you to receive the newspaper or mail in its actual state without any damage. The bracket even protects the newspapers from rain. Furthermore, it provides an innovative and classy way to receive your mail. 
Charlestonian Double Mailbox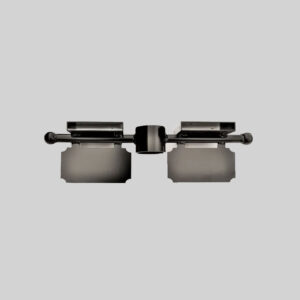 Always the bestseller, this bracket is the one that knows how to always stay in demand. It provides a space for your double mailbox with a name plaque below each one. You can print a name, address, or both on it, allowing the delivery person to identify your mailbox. You can easily install it on your mailbox post or the entrance door to enhance its appeal. This bracket with name plaques is the most ideal for couples who want separate mailboxes for each of them. 
Florence Single Mailbox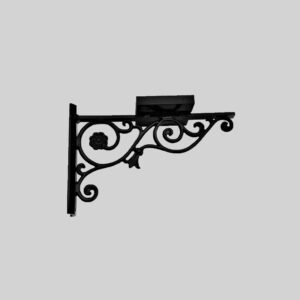 If you want a bracket for your single mailbox, this beautifully designed Florence bracket is ideal for you. It provides a majestic look to your mailbox, making it flawless. This stunning bracket will surely create a good first impression in visitors' eyes. Furthermore, it is made in such a way that it will get mounted on almost every mailbox post. Having a solid surface, this high-quality bracket is also suitable for holding much weight. It is for a single mailbox, but if you want the same for your double mailboxes, you can find it with us as well. 
Read More:- Affordable & Durable Double Mailbox Post
Independence Mailbox Bracket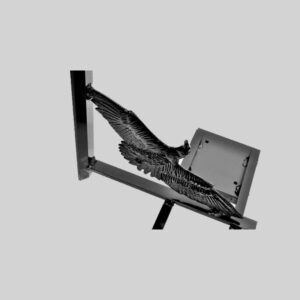 This eagle-design bracket is one of the most attractive brackets in our collection. The product is designed and made by our excellent designers to make the bracket unique and eye-catchy. Also, the eagle design on the bracket enhances the overall look and adds a noble feel to the mailbox post. It is water-resistant and weather-resistant, ensuring the product lasts for a long time. Also, the best thing about this product is it is economical according to the design and quality. You can shop the design for your double mailbox as well. 
Palma Single White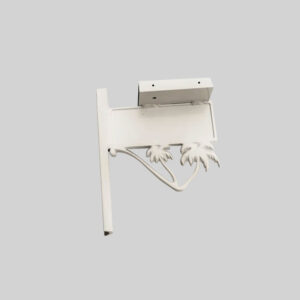 If you are looking for a white-colored mailbox bracket, you can choose this one. White is one of the most attractive colors that catches everyone's attention; it provides a radiant look and portrays your bright personality. It also allows the delivery person to identify your mailbox more quickly. The palm tree design offers an elegant look to the bracket in an appealing way. Also, the bracket is perfect for carrying out the weight of any type of single mailbox. You can use this bracket for many other purposes as well. 
Conclusion 
Brackets have many functions; they secure your mailbox and increase its attractiveness. Thus, you must choose a proper bracket to enhance your mailbox post's overall look, and it perfectly holds the mailbox and carries its weight. You can also use the bracket for many different purposes, such as placing decor items, organizing books, etc. 
We hope that you have found the mailbox bracket you were looking for in our top 7. Well, if not, we have a whole collection of mailbox brackets, bases, boxes, and post caps for you to explore. To check more of our products, visit us on our website www.mailbox-solutions.com, and to know more,
call us at 407-366-6565 (Office)
email us at [email protected]