Hanging Address Plaques are a unique way to beautify your home's view. Beyond aesthetics, there's also a practical aspect of setting up hanging address plaques. A well-customized hanging address plaque looks elegant near gardens, doorways, and curbside. So let's check out some exclusive and sophisticated address plaques for your home and learn installation tips to style your gardens and front yards.
Address Plaque 9 X 16 PVC Ornate
It is a hanging address plaque with intricate gold carving and a curved design. The curved mold and stylish pattern combine to form a one-of-a-kind pattern you can nail outside your door. Also, it is constructed from high-quality board material to withstand all tortures of bad weather. You can choose a suitable size on our site, such as 9*16 PVC ornate, or get these customized.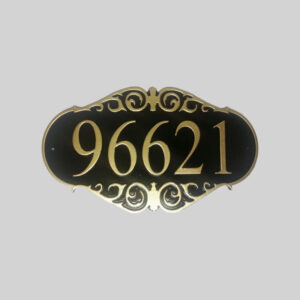 Address Plaque 6 X 12 PVC Deco
Add these exclusive and elegant hanging address plaques to your garden or front yard. They have a beautiful design with black and golden borders that adds a touch of luxury and an essence of minimalism to it. Moreover, it is reasonably priced and available at any time on our online store.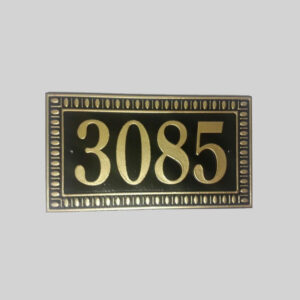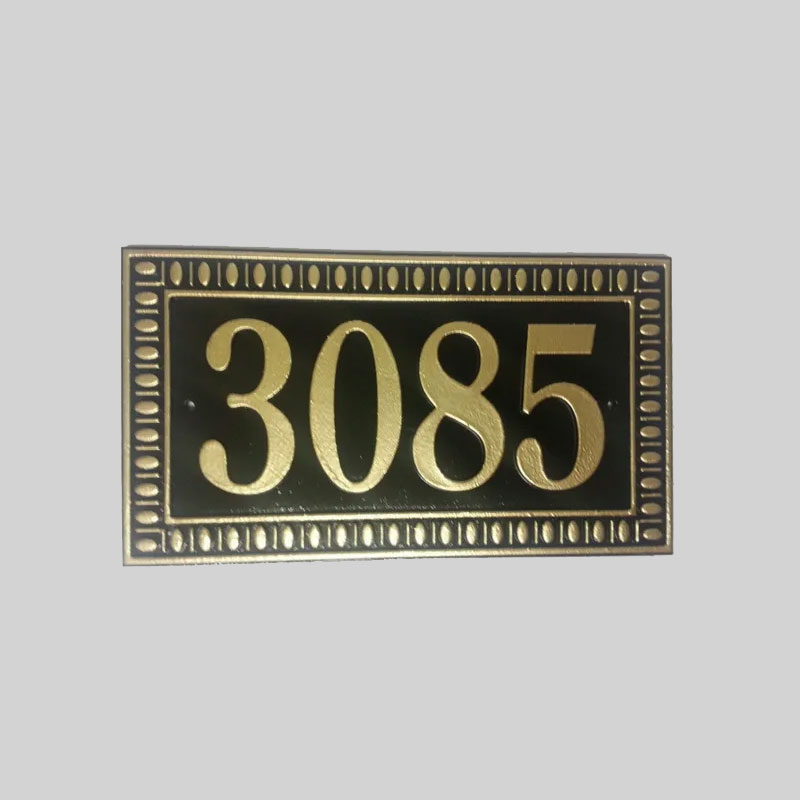 Address Plaque 10 X 16 PVC Glenview
These lovely hanging address plaques are made entirely of powder-coated aluminum and are custom-made for you. They have a green base with golden borders, which enhances their appearance and adds a luxury touch to your aesthetics. Place it outside your home or hang it at your favorite place so people can appreciate your choice and designing skills.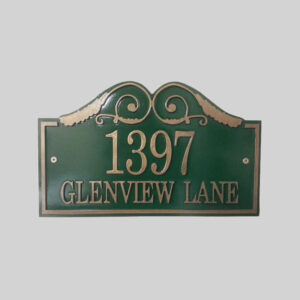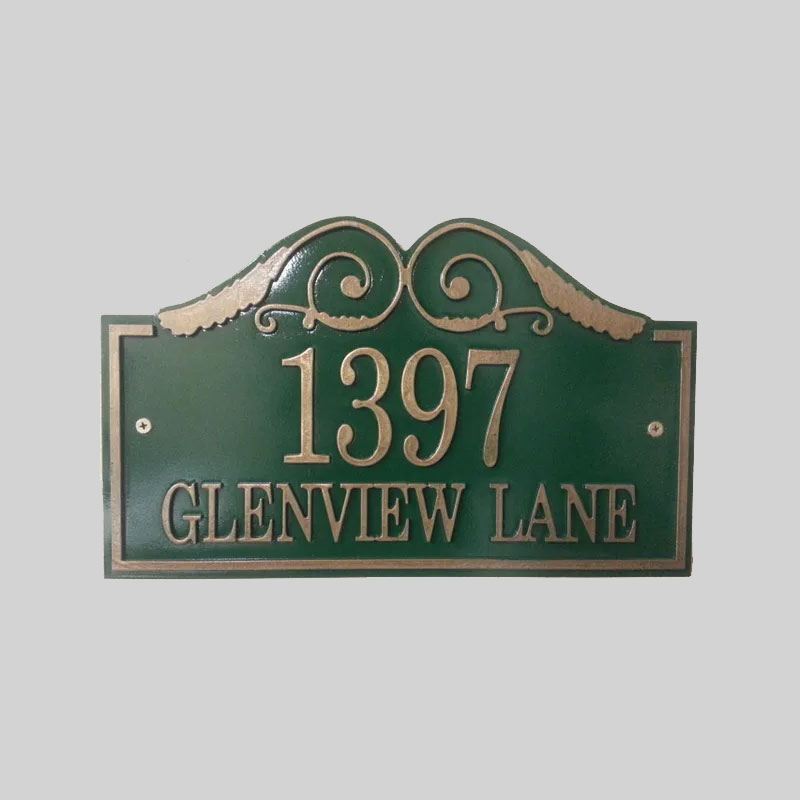 Address Plaque 8 X 13 Corian Ivy Oval
This lovely leaf pattern on the hanging address plaque card is made of high-quality materials and will look lovely in front of your home. The oval shape of the plaque card has an approximate size of 8*13, and it can also be customized per your needs and preferences.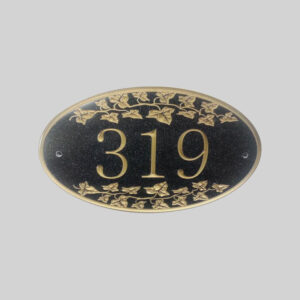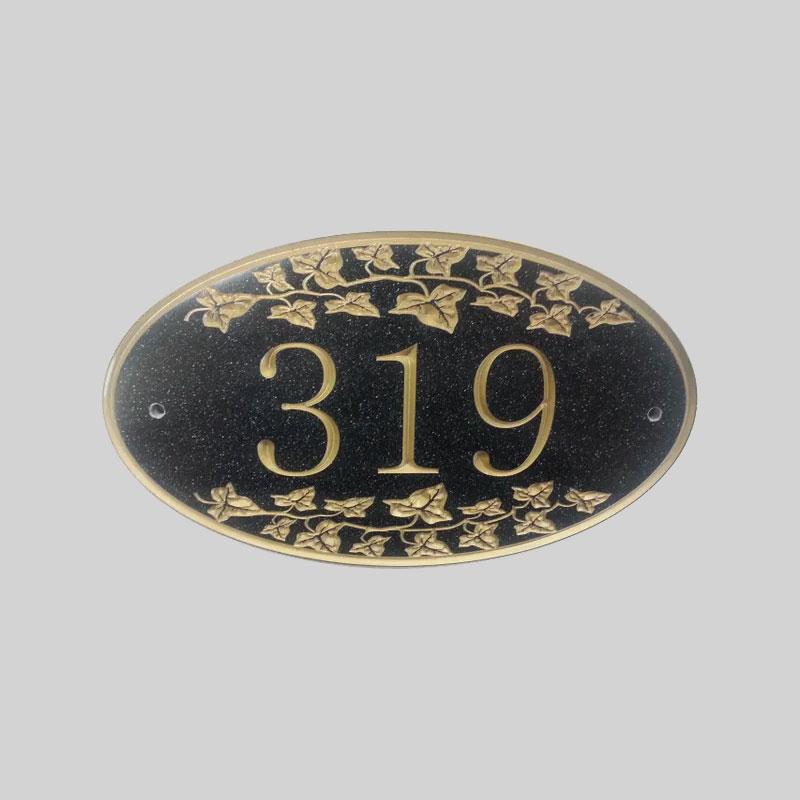 Address Plaque 6 X 13 Color Core Green On White
If you prefer something simple, this address plaque option is for you. It is in a sober creme color on which a green-colored design introduces your house number and name. The Green design on the white base is the perfect vintage combination and takes you to the good old times. You can visit our site to find more simple yet elegant hanging address plaques.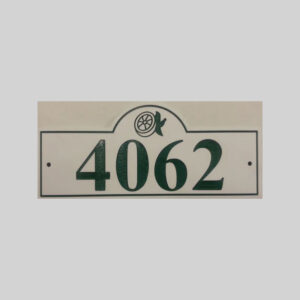 More premium quality outdoor hanging address plaques on our website will instantly spotlight your home, so visit the website to check them out. 
After selecting the right hanging address plaques for your home, you must know a few things that will help you renovate your outdoors with address plaques. So, keep reading ahead.
How To Decide The Aesthetics Of Hanging Address Plaques?
These are the practical decisions you have to take while deciding on the aesthetics of custom hanging address plaques.
Size 
Smaller hanging address plaques are usually inexpensive, but they are usually not visible from a distance. It can become difficult for people to spot your house among all the houses. Therefore, choose a standard sign which is suitable for almost all homes in America. A small address plaque will work well for you if you have a small flat or an apartment. However, if you own a larger home or a farmhouse, you will need an Estate size sign.   
Additionally, there's a simple rule to determine the size of hanging address plaques which states the following things. 
A house that does not have a driveway will need a small address plaque card. 

A house under the height of 3,000 sq ft or Less Than 50 ft from the curb will need a standard-size plaque card.

Houses over 3,000 sq ft or more than 50 ft from the curb will need a Lawn address plaque or Estate plaque card. 
You can use the above information to decide how big your hanging address plaques must be.
Location
Most modern hanging address plaques are installed on the front-facing wall or door of the home. Also, it can be at any spot that is visible to visitors and passers-by. There are different address plaques: wall plaques, lawn plaques, and hanging address plaques. However, the hanging address plaques have a special appearance that no other sign can beat. 
Also, one more benefit: they have two sides visible to the people. You can install the address plaques in your garden area, lawn, near the door, mailbox, or any location easily visible to people. Remember that the signs must not hide behind a tree, bush, plant, or anything.  
How Much Detail To Provide? 
The information you wish to include on the address plaques depends on the size of the plaque card and what you prefer to share. Commonly modern hanging address plaques include the following information:
House Number.

Street Name.

Family Name.
Please keep it clean, simple, and practical to read. Do not add too much detail in the font, and be as practical as possible. Just mention the address or house number in Line 1, then mention the street number in line 2 if you prefer. Lastly, mention your family's last name to introduce yourself and your family. 
Writing the family's name also gives your address plaques a personal touch. You can be creative here; for example, you can write John's Mansion, Kimberley's Happy Home, etc. But, one thing to remember: your outdoor hanging address plaques shouldn't be confusing and Gowdy.
Symmetry Of Hanging Address Plaques
When you hang the address plaques, they must be in proper symmetry, so they reflect the character of the entire home. Do not place them too low or high to confuse the people. No one should put extra effort into searching for your address. You can place it on either the right side or the left side. Moreover, the side where you hang your address sign-on should be empty of other things. It would be best if the wall or door you hang it on is in a contrasting color. 
Lastly, renovate the plaque cards or customize them with scrolls and brackets of your choice. 
Final Words
Shop for custom hanging address plaques, Corian plaques, and vertical plaques from the Mailbox And Sign Solutions. We are a leading brand that manufactures mailbox, signs, and specialty parts from robust and durable materials. We also provide repair and renovation services to make your homes more elegant and add a touch of sophistication to them. To shop our products or book our services visit our site.