Deciding a perfect gift for your friend's housewarming party is tricky. One can get puzzled by hundreds of suggestions from friends and zillions of internet ideas. On top of that, '35 gifts for friends blogs' drive us even more crazy. And, you may have some mixed thoughts on gifting Corian address plaques. But, don't you worry, we promise to prove our point before imposing any uninteresting idea on you. However, some genuine online websites give you the best suggestions for all your problems. Mailbox And Sign Solutions have been sharing knowledge about repairing, renovating, crafting, and replacing things for a long time. So, we thought about how to answer the most searched query on the internet: Best personalized gifts for a friend's housewarming party. We know that you already know what our suggestion is. The title of the blog post tells loud and clear.
The good thing is that we also might have some cool and heart-touching options in stock, so you don't have to spend hours searching and browsing for them. 
We know you are all pumped to know the features and benefits of Corian address plaques, so we would like to explain them a bit.
Top Reasons To Gift Corian Address Plaques
Personalized Corian address plaques are crafted from the hybrid polymer resin, which makes them suitable for use. They are commonly available in four colors white, black, green, and blue. These are carved from a classic deep V-groove and painted with a layer of acrylic. The text and design colors are gold, black, white, red, green, and blue. The font and design are carved from a color that contrasts the color of address plaques. This technique makes the address and names visible on the Corian address plaques.  
Speaking of gifts, you are going to a housewarming party and want to give your friend something special. Something that your friend will use over and over and will cherish for a lifetime. What would be better than a personally customized sign? A sign that introduces your friend and reflects your love. Corian address plaques contain your buddy's name and address, which they will write in front of their new house. So what if they have already been looking for something like Corian address plaques. 
Things like address plaques hold a sentimental value; they signify success, prosperity, and abundance. Gifting it to your friend will double its sentimental value. If you personalize it thoughtfully, your friend will install it immediately and might also brag about it to everyone. Whether your friend is a married person or a bachelor, they will love your gift. 
It would be best if you thoughtfully personalize the Corian address plaques. Think about what would your friend want their home's introduction to be? Would they want their parents' names along with theirs? And, what color would suit their entrance? 
Once you decide everything, go to a professional manufacturer of signs and tell them your vision. If rightfully constructed, your friend will adore your gift whenever they enter their home.   
Common Address Plaques For House
Here are some common Corian address plaques for the house that you can give to your friend without a second thought. 
Address Plaque 8 X 16 Corian Ornate
The beautiful curvy golden design in this Corian address plaque is the main attraction of our online store. It is one of our best-selling Corian address plaques, featuring the ornate design of size 8×16". 
Research well about your friend's home, their location, wall color, door color, size, etc. Also, dive deep into their feelings about the home and how they would like to represent themself once you have gathered all the information.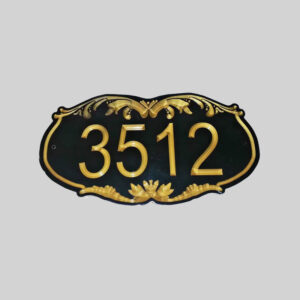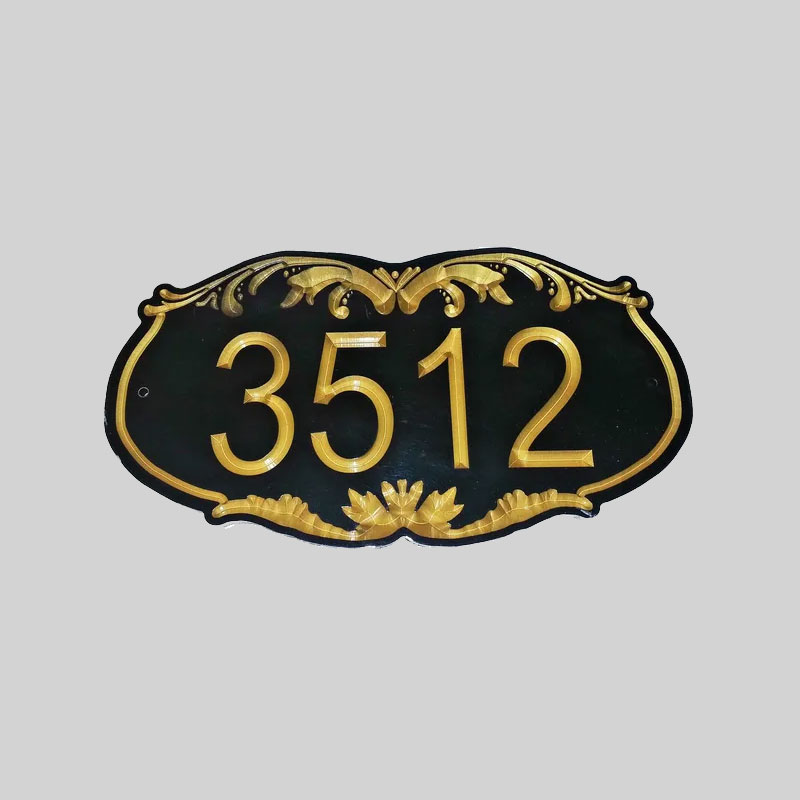 Address Plaque 9 X 15 Corian Rochelle
While there are many elegant designs for Corian address plaques, this one is a classic. Corian Rochelle is a worthy buy. It features a golden font and design on black address plaques. The material is reliable, durable, and can withstand bad weather. Also, the size 9×15 is pretty convenient for walls, doors, and mailboxes. You can contact Mailbox And Sign Solutions if you want this perfect sign to be customized to your needs and preferences.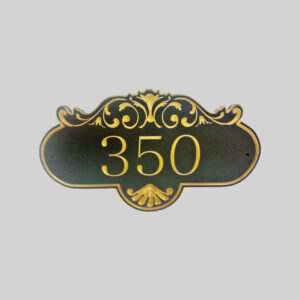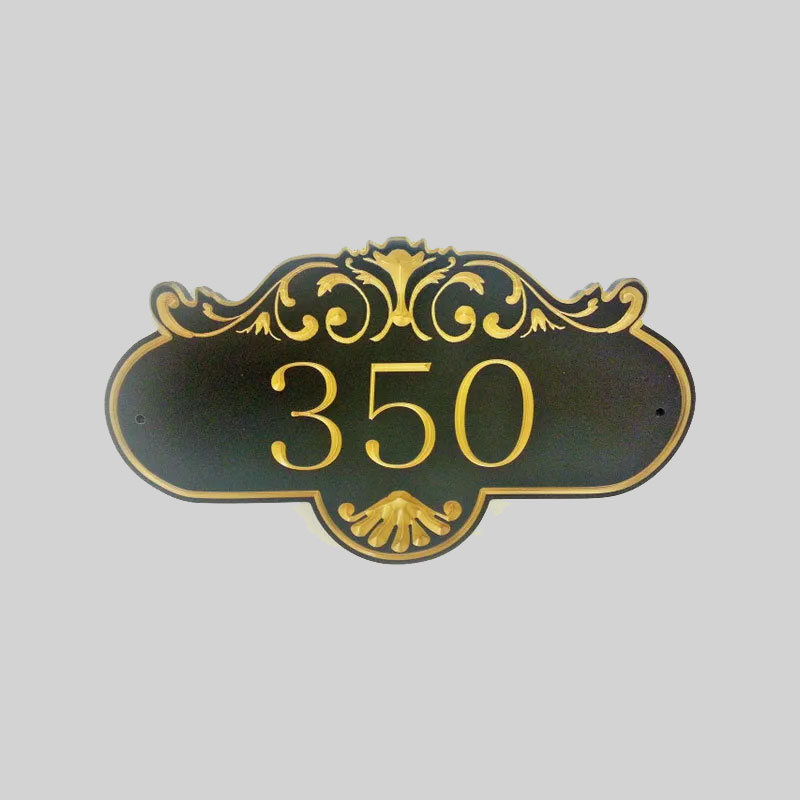 Address Plaque 7×16 Corian Horizontal Fountain
The address plaque is crafted with a personalized Corian horizontal design. The best-known address plaque card is available at a size of 7*16". Moreover, the address plaque features Corian's horizontal design for better viability and installation. Signs can be personalized into vertical signs based on your needs and preferences. Also, you can customize certain elements if you wish to add or remove something from the sign.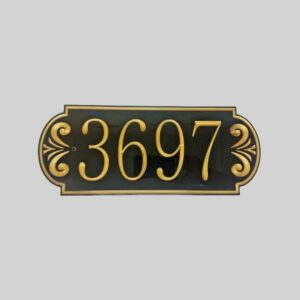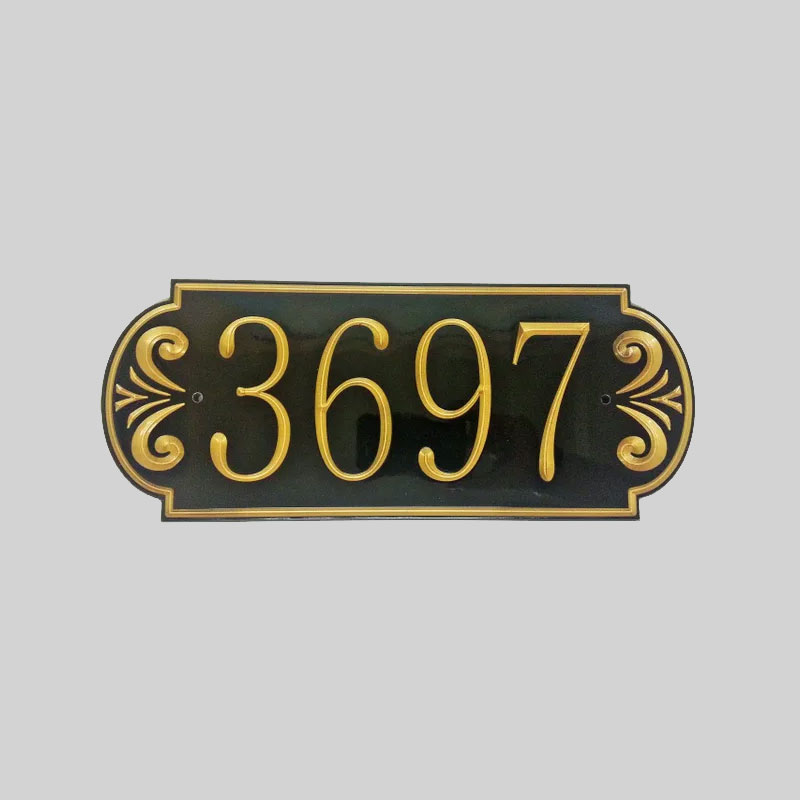 Address Plaque 8 X 13 Corian Ivy Oval
This elegant leaf pattern address plaque card is manufactured with solid materials that will stay strong against all tortures. It's made with high tensile material and has an acrylic finish. It will look elegant in front of your house, entrance wall, or on the door, wherever you install it. The shape of the plaque card is an oval and exhibits minimalism for those who find beauty in simplicity. It measures 8*13" approx., and you can customize it in the best way to give to your friend.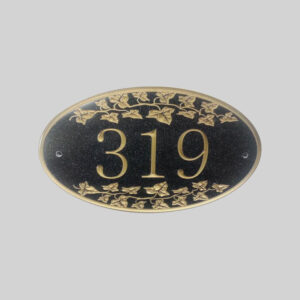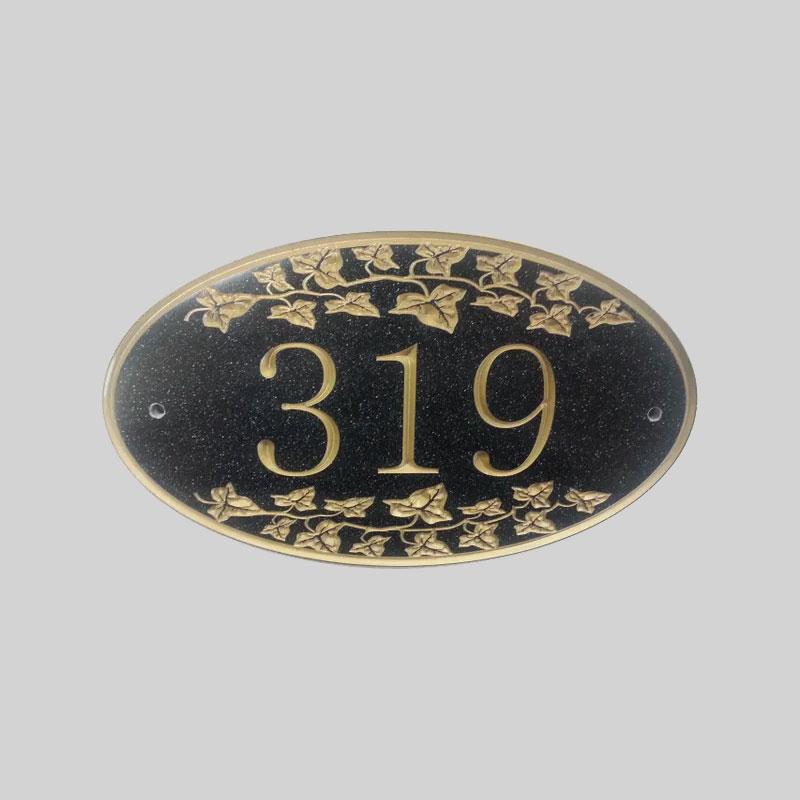 These were some common Corian address plaques. You can take ideas from these and get customized a lovely gift that your friends will cherish forever. We hope you like our suggestion and consider it. If you have more queries like these, you can mail them to us on our official mail id. We would love to answer your queries. You will find our email address on our website.
Conclusion
We know how to please our users. We put our hearts into crafting perfect Corian address plaques. Also, we keep your needs and preferences in mind and do our best to fulfill them. To book our repairing service or to buy something visit our store.
Get customized a beautiful and sentimental token of love from us. We are Mailbox And Sign Solutions, a leading producer of mailboxes, signs, and repairing tools. Being the experts of signs and everything that makes our society aesthetic. Furthermore, we repair, replace and renovate for you, so you don't have to do the hassle.