The beautiful and joyous winter season comes with not so manageable snowstorms. We wake up to see snow plows and head out to clean the roads. However, cleaning roads for the commuters creates a big problem for the mailbox users. The snow dumped by the snowplow sometimes obliterates a mailbox. So, what should you do when your mailbox becomes a victim of a snowplow. In this blog, we will discuss what you need to do when your mailbox gets destroyed and what a Snowplow proof mailbox looks like. 
What To Do When Mailbox Gets Destroyed? 
Suppose you wake up in the morning and step towards your mailbox to get your favorite newspaper or magazine, but instead, you have found your mailbox dented, crushed, or broken. The event will make you upset and instantly change your mind about getting a new mailbox. 
However, it is an ideal approach, but you can make the same mistake without knowing about a snowplow-proof mailbox again. So, if you are buying a mailbox, you first need to get familiar with a snowplow-proof structure. But, if you want a different and affordable approach to handle the situation, you might consider repairing, replacing, or refurbishing your current mailbox. 
Whether you have a single base support system, boom system, or a swing away system, all it takes is a single collision from a snowplow to destroy the mailbox entirely. 
The question that pops into mind is what you need to do after that. You need to photograph the area as soon as possible and e-mail it to the Public works or Highway Department. You can also mail it to the snowplow company. If you find nothing but a bent metal, broken wood, metal, or plastic at the end of the driveway, know that a snowplow hit it. 
Given that, in such an event where a snowplow damages your mailbox, your city or town's government has a way of making things right. The government maintains public roads. Some governments provide a voucher to cover the cost of the damage, while some write a check that fits the repair cost. Either way, you can ensure that the snowplow will not further affect your savings.
For more information about the municipality's snowplow policy, contact your local Public work Centre.
Snowplow Resistant Mailboxes 
Homeowners and DIY fanatics have experimented with countless styles to make snowplow resistant mailboxes from getting damaged. People try everything and get mixed results from duct tapes, plexiglass sheets, and free-swinging boxes to dangling a mailbox from the tree. You can improve the curb appeal of the mailboxes, but with any DIY hack or internet trick, you cannot change the tensile strength and structure of the mailbox. 
Even if you manage to come up with a solution, the efficacy of these mailboxes does not last for a longer time. And these will not be able to withstand the torture of the snowplows. If you doubt your mailbox renovation, quickly get them repaired or replaced by a professional. Read ahead if you still wish to replace a mailbox with a snowplow-proof mailbox. 
Installing A Snowplow Proof Mailbox 
You don't need to be a handyman for this job. Here are tips on how to snowplow proof your mailbox and ensure your security from the snowplow.
Before starting the work, make sure the mailbox you have selected is a snow plow-resistant mailbox. 

It is essential to contact the area's postmaster to ensure compliance with the curbside placement policies. Also, check out USPS guidelines for mailbox replacements.

The height of placement of the mailbox should be 41″ -45″ from the road's surface to the bottom of the box.

The location of your mailbox should be exactly six to eight inches from the curbside.

The apartment or house numbers should be visible on your snowplow-proof mailbox. 

If your mailbox is on another street, you must list the complete address details, including street name, home number, nearest landmark, etc. 

Contact your local USPS staff members and consult about replacing the mailbox. Now bury the support post's one foot in the ground and secure it with concrete for ultimate security.

Some people also prefer a newspaper holder to enjoy complete advantage of their mailbox. Also, it adds high-end security to them. If you like it too, then you can do the same. Snap the mailbox mounting plate to the steel foundation, then slip the box onto the plate and attach it correctly with the help of two stainless screws. 
By now, you must be curious to know what a snowplow-proof mailbox looks like. Here's the answer. 
How To Identify A Snow Plow-Proof Mailbox? 
It would be best to have a mailbox with high tensile strength and a powder-coated finish. The tensile strength will not let the snowplow destroy the mailbox, and the aluminum powder coat finish will not let the snow's moisture rust your mailbox. Technically, it is nothing related to its appeal. If you want a snow plow-proof mailbox, all you need to focus on is its structure. Even for that matter, single-door mailboxes and double-door mailboxes will work efficiently. A mailbox can be simple and sober on appeal, and the purpose is only to protect the mail from the effects of the snowplow. Here are a few brilliant examples of snow plow-proof mailboxes. 
Arcane 110 Single Mailbox
Complicated designs and structures make the snow get stuck in parts. You need something robust and simple in design. Here is a simple yet elegant snow plow-proof mailbox. This elegant high tensile strength mailbox has an aluminum powder-coated finish and an artistic scroll. Get this mailbox and protect your mail from the snowstorm.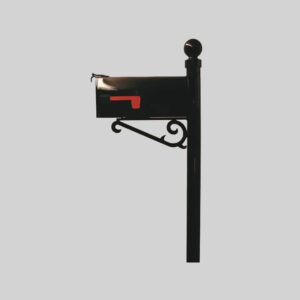 Charlestonian 110
This is an excellent mailbox with a simple design and 100% powder-coated finish. Its simple and solid body is rustproof and snowplow-proof. Its high tensile strength is durable and stands strong against bad weather.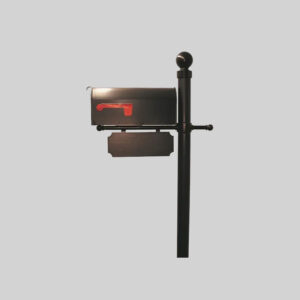 CBU 12 Door – Standard
Are you looking for community snow plow-proof mailboxes? We have it right here. 
This mailbox is suitable for a building or neighborhood with 12 families or individuals. It is made from high tensile strength materials and has a powder-coated finish. Additionally, it is rustproof, snow plow-proof, and stands solid against all bad weather.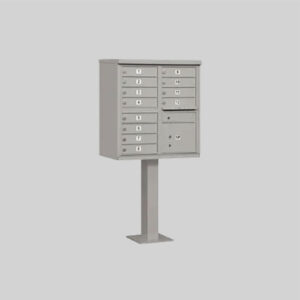 You would be curious to browse and shop for the best snowplow proof mailbox. Buy it from the Mailbox And Sign Solutions and avail yourself of great benefits. USPS and HOA approve all our mailboxes. Also, our mailboxes are made from solid materials and a powder coat finish that makes them durable and snow plow-proof. We can also repair, replace, and renovate your mailboxes if they have got damaged with time. To know more about our products and services, visit our site.