In a situation where you have to share your mailboxes with a family member or a close friend, it is better to install a Double Mailbox Post. It saves space and looks more immaculate than a single post stuffed with tons of mail. Also, it saves confusion if you are sharing a mailbox and conveniently carries multiple mail, newspapers, and magazines at one time. Not only are these mailboxes an intelligent and advantageous choice for modern people, but they significantly enhance your entrances and curb appeal. 
Here are some super convenient and elegant double mailbox post options which are ready to install and add charm to your curbside. 
Abigail 010-2 White
This classic and elegant double mailbox post features two beautiful white mailboxes. It is perfect for installing in stores, schools, churches, personal businesses, etc. The aesthetic double mailbox will instantly charm your front yard and entrance. Also, it is make with high-quality solid materials and has a rust-resistant powder-coated finish that protects it from losing its charm. Get this double mailbox post at an affordable price from our website.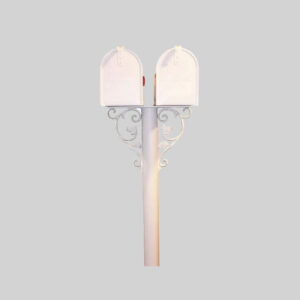 Madeline 110-2 Side Mount
Here is a magnificent double mailbox post that will turn your home's exterior into an artistic and praiseworthy place. Not only is it elegant, but super convenient and made from robust materials. It is spacious to carry multiple things and coated with rust-proof paints. Also, it has beautiful scroll designs that give it an elegant vintage look. Be creative and customize your home front with such elegant double mailbox posts.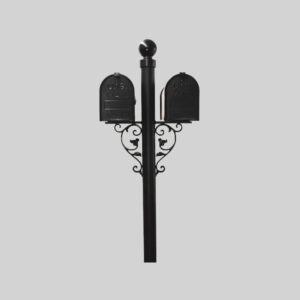 Florence 110-2 
This is a beautiful double mailbox post that is pleasing and attractive to the eyes. This elegant Double Door Mailbox is make from solid and durable materials. It is a front-mounted shape, making it excellent to install at the entrance. Also, it has beautiful designer scrolls and a stylish modern body. Get this attractive mailbox and use it to carry multiple mails and enhance your curbside.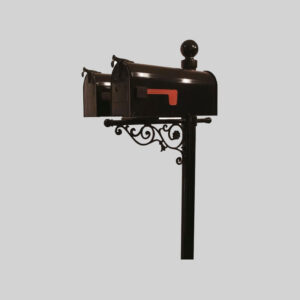 Charlestonian 221-2
It is the most demanding hose-shaped double mailbox post. This is the most demanding hose-shaped double mailbox post. It is made from high-quality materials, making it smart and durable. Find the best deals on this mailbox on our site.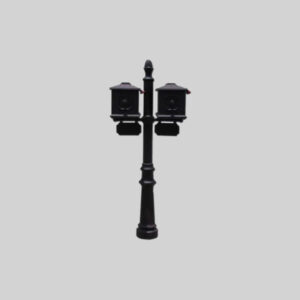 American 110-2 
This double mailbox post is manufactured from galvanized steel and a premium powder-coated finish. It offers the durable service of a lifetime and stores multiple parcels conveniently. Moreover, the classic finish adds charm to your front yard and entrance. Get this to avoid confusion between you and our roommate. Also, you can customize these mailboxes, their post, and pole according to your liking. You will find this on our site.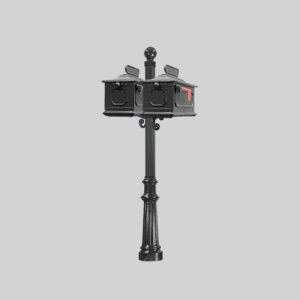 American 121-2-TP1
These are American series of house-shaped double mailbox posts. The house-shaped mailboxes are super convenient and elegant, instantly making people compliment your choices. All of the mailboxes in this collection are made of shiny jet black color that adds ultimate sophistication to the mailboxes. Also, these are made of high-quality material and coated with aluminum from top to bottom to stand firm against bad weather.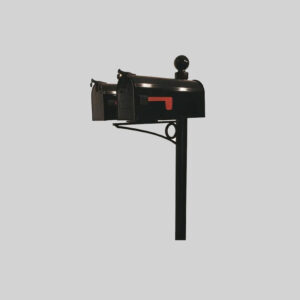 Do you have more than two family members or roommates who receive regular letters and Mails? A double mailbox post wouldn't be suitable in your situation, but we do have something in the store that will serve your purpose just right. Here is a brilliant multi-compartment mailbox.
Chandler 110-2
Here is a solid and durable deep black-colored double mailbox post. This Double Mailbox has a long pole with a unique designer scroll underneath it. If you don't like this scroll, do not worry because you can personalize it according to your preferences. The double compartments efficiently carry multiple mails, and a solid, durable body offers a lifelong service. These mailboxes are an innovative and convenient choice that will inspire other people to renovate their entrances like you. 
Palma 110 2 White
This premium mailbox features a classic palm tree design which is ideal if you want to give your entrance cool aesthetic vibes. It is made from solid cast metal and powder-coated finish, which is highly durable. Moreover, the mailbox has a stylish bracket and sober design. A double mailbox post can efficiently carry multiple Mails and letters.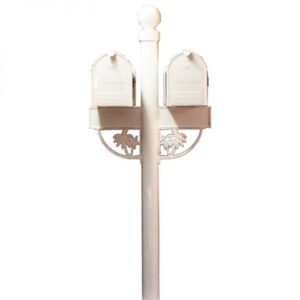 Standard 320 4 TP1
This standard post-mounted mailbox features a classic design that can instantly add sophistication to any business or home. It is ideal for friends or roommates sharing a mailbox or for a family of 4-5 people. Moreover, it is made from heavy-duty steel materials and painted with a rust-resistant powder coat finish. So, this multiple compartment mailbox is durable and rust-resistant, giving it a long life to carry your mail. These qualities make it a perfect outdoor mailbox that stands firm against bad weather and protects your mail from getting destroyed.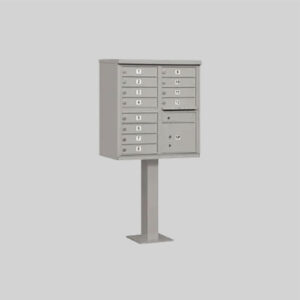 As A double mailbox post will not be a wise choice for you, here is an excellent CBU mailbox for your community. If you live in a neighborhood or building, it will be more convenient to install CBUs or Cluster mailboxes. Also, USPS and HOA suggest installing CBUs for fast, on-time, and safe mail deliveries. 
CBU 12 Door – Standard
This is a classic trendy 12-door community mailbox suitable to serve at least 12 individuals and families in a building or neighborhood. It is make from high tensile strength steel, making it theft-proof and durable. Also, it is coat with rustproof aluminum powder, which makes it rustproof and robust to stand solid in lousy weather. It has 12-door compartments, and each has plenty of space to mention its address. This mailbox comes with lock slots that will help you keep your mail and other belongings safe. Install this durable and sober mailbox in your front yard to get mail on time and enhance the curb appeal of your area.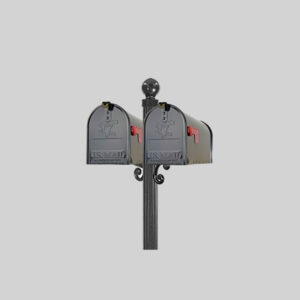 So, these were some attractive and aesthetic Double Door Mailbox options. We hope you have added some to your shopping list. You will find these durable mailboxes on your website, Mailbox And Sign Solutions. We are the leading producer of mailbox and signs, offering the best deals. Not only that, but we also have aesthetic poles, scrolls, brackets, and bases to add sophistication to your mailboxes. And the best thing is that you don't have to search for a handyperson to install mailboxes for you because we can do the installation too. Learn more about our services on our site.