A regular mailbox cannot stop a nosy neighbor from peeking into your letters and mails, but a locking mailbox can. All locking mailboxes generally have a large slot sufficient to carry numerous letters and parcels. And it also has a locked portion you can access using a key. So when all the belongings are locked, the security is enhanced and strengthened. But can we rely on them? Read this blog to find out how you can ensure the safety of your belongings using the locking mailboxes. 
How To Choose The Right One From The Several Options?
Locking mailboxes are mounted on front door walls or a post on the curbside. You may prefer a locking mailbox to accept letters, packages, or both because their ability to carry and secure various larger mailboxes gives you peace of mind. Before selecting the most attractive mailbox, there are various features that you must know about. Features of any product impact the quality, durability, and overall security. You need to include the type of mailbox, its aesthetics, installation procedure, and its reaction to the weather. 
Taking time to think about the right type, size, and quantity of mailbox will help you narrow down the best locking mailbox options for you. 
Look For The Type
Modern locking mailboxes are generally of three types. You can differentiate them based on the location and installation process. On this basis, we are categorizing them on the following. 
Wall Mount Locking Mailboxes: These are installed on the wall; therefore, the name is wall mount mailboxes. This style of mailboxes has mounting brackets that can fasten the installation process and securely attach the mailbox to houses, gates, and garages. 
Curbside Locking Mailboxes: These are generally installed on wooden or metal posts. However, some curbside mailboxes are installed on top of a concrete pillar. These mailboxes are mostly located near the curbside, making them suitable for the mailman and the owner. Because of the convenience, it makes it easier for the mail carriers to deliver and retrieve mail. 
Tower Style Drop-Locking Mailboxes: These are freestanding locking mailboxes made of tall, tower-style drop boxes. The drop box is heavy on the base and sits on the ground level. One must use the mounting plates and heavy-duty bolts to enhance security and prevent the entire mailbox from being carried away by the mailman. It will attach the mailbox strongly to the ground, a lacking feature of this mailbox. 
Security
The most crucial purpose of having a locking mailbox is to keep your mails and packages secured after the mailman delivers them to you. Also, the locking mailboxes keep thieves and nosy neighbors at bay. Consider the mailbox size and decide which kind of lock is better for you as there are various locking combinations and premium security features. 
Mail Slot: Many mailbox manufacturers provide an opening to retrieve the mail and letters from the mailbox. It can increase the risk of theft. Therefore, looking for a product with a small opening slot is recommended. 
Anti Pry Latches: These attachments stop the thieves from using screwdrivers, wrenches, and pry bars to open the mailbox compartment.  
Key Locks: Key locks have anti-drill and anti-pick mechanisms to prevent thieves from breaking the mailbox's body. However, losing the key can put your belongings in danger if the wrong person finds it before you. 
Combination Locks: Such locks can only be decoded with the correct combination. So there's no need to keep track of the keys. But, an experienced thief can wait for the entire day to see the combination of locks. Also, they may try 100s of combinations to find the actual one. Every locking mailbox tends to have a drawback, but a keylock mailbox happens to be the most secure. 
Storing Capacity
You may wonder why storing capacity is essential to help your belongings be safe. The postmaster is forced to keep the letters and magazines outside when the storage capacity is full. Sometimes the mailbox compartment is so small that it cannot carry multiple letters and packaged mail. Look for a mailbox with substantial storage capacity. 
Weather Resistant 
Mailboxes are mounted outside the home so the mailman can access them easily. However, due to this reason, mailboxes are exposed to snow, hail, and storms. Therefore, it is crucial for mailboxes to be weather resistant and to stand strong for at least 10-20 years outside of your home.
Plastic mailboxes are strong but not too strong for over a few years. Also, plastic mailboxes can deteriorate easily in the rain, and they are easy to break and cut. Aluminum mailboxes have the highest weather resistance, and you don't have to worry about rusting and corrosion with them. But, the drawback is that these are fragile, so a clever thief might cut or break the body to steal your precious belongings. Stainless and galvanized steel is difficult to break into, but they are prone to rust. And wooden mailboxes and posts would become the victim of mold and mildew with time. So what's the best solution? 
Mailbox And Sign Solution suggests that the best locking mailboxes should be made from stainless or galvanized steel and have an aluminum coating. The steel is strong and will prevent any cuts and breakages simultaneously; the aluminum coating will prevent corrosion and rust. Finally, customize your mailboxes with locks and keys to ensure the greatest security. 
Aesthetics 
While all the factors mentioned above are necessary, you should not ignore the aesthetics of these lawn ornaments. You can select aesthetic locking mailboxes that do not come in the way of your home's appearance. In simple words, the mailbox's aesthetics should complement your home's outdoor design. By aesthetics, we don't mean your mailbox must be strange. You may have seen many outlandish mailboxes in a microwave or school bus design. But are those safe? We are also not sure about that. But, a classic aesthetic Joroleman mailbox will do its job well.
At Mailbox And Sign Solutions, you will find elegant white locking mailboxes and black locking mailboxes with palm tree designs. All mailboxes are made of galvanized steel and have a top coating of aluminum. Our mailboxes are designed to protect your belongings from theft and damages that come with rusting of mailboxes. 
Palma 110 is the one you need to add a spotlight to your lawn. It is the most demanding mailbox in terms of its classiness and elegance. It's robust and can hold multiple mails at a time.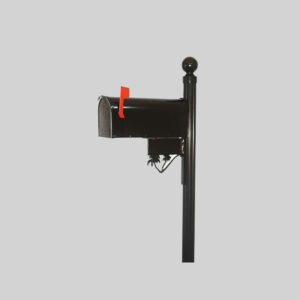 Palma 110-2 White is beautifully designed in cream color with double compartments to store your mails and letters. It is an eye-catchy combination to add a sense of sophistication to your home. It enhances the aesthetics and is composed of 100% galvanized steel. Also, it is finished with powder-coated aluminum, which will prevent it from corrosion.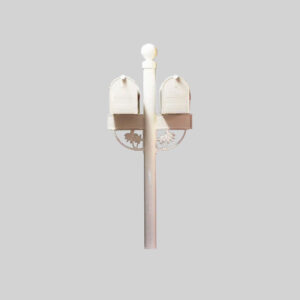 Installation
The installation process determines how easy and difficult a locking mailbox would be to break in. 
Wall Mount Locking Mailboxes: These normally have one or two mounting brackets with masonry wall plugs, bolts, and screws. Installing them would require hammers, a power drill, and a screwdriver. 
Curbside Locking Mailboxes: Installing them would be tricky because they require many things. A post, pillar, pedestal, mounting plate, concrete, fencing, screws, bolts, and other tools. So, if you give it a chance at your home, you will see that these are the toughest to break in and prevent your nosy neighbor from peeking into your belongings. 
Community Mailboxes CBUs: These mailboxes are designed specifically to serve the community. So if you are somebody who owns a building, office, or residential area, these are your options. They are the hardest to install and, therefore, hardest to break in. Additionally, all the compartments have address plates and lock with them. 
Tower Style Drop Locking Mailboxes: These are the least difficult to install; therefore, we do not advise you to get them. Even if you do, mount the bottom securely on the ground. 
Conclusion
Most of the residential locking mailboxes work in the same way. You get a lock and key or just the key if the lock is built into the mailbox. Only you have access to the key. The mailman comes in and leaves the package, which you can retrieve and leave and keep the carrier flag in the standing position. Keeping mailboxes in the mail for a long time increases the chance of theft. Coming back to the question of where we started this blog. How safe and efficient are the locking mailboxes? The answer is that they are quite good at their job, but you have to be smart to install them in the right place and with the right tools. So we hope this guide will help you with that. 
Shop for locking mailboxes from the Mailbox And Sign Solutions, or get your old ones customized with new locks and keys. We, a leading producer of mailboxes and signs, are excellent at delivering solutions to your problems. We make high tensile strength mailboxes from 100% galvanized steel, each finished with an aluminum powder coating. Also, all our mailboxes have locks to protect your privacy and prevent thefts. So, let us help you figure out your needs and desires so we can craft the wonderful mailbox that shines in your yard.