A post mount mailbox has a post and a base. Also, post-mount mailboxes are installed in the ground on your curbside. Post-mount mailboxes are the most convenient and modern mailboxes. They allow efficient and quick delivery if installed at the right place on the curb. However, they are not huge and rock-solid like community mailboxes but still can hold multiple letters at one time. They are useful for a single-family or friends living in the same building. Moreover, a post-mount mailbox looks elegant standing at your curb. That is the reason USPS itself suggests installing post-mounted mailboxes on the curbside.  
Also, to make a post-mount mailbox durable and decorative, you need to consider a few things. This article will discuss making post-mount mailboxes decorative and durable. 
What Does An Ideal Mailbox Post Look Like?
An elegant curbside post-mount mailbox should be the same color. We mean that the post, mailbox, and base should be of the same color and design to rephrase this. Let's assume a careful inspection of your old mailbox made you realize it isn't the mailbox you need anymore. You are considering installing a new one or replacing the mailbox post. 
Now you must wonder, in what cases do you need to change a mailbox post? Most post-mount mailboxes are mounted on wooden posts; these posts became the victims of pests, water, sunlight, etc. Also, if the post looks dry outside, there can be mold and mildew inside the post. Therefore, changing the post is wise before the damage becomes beyond your repair. 
Post And Mailbox Must Complement Each Other 
Due to the technological and design advancement in manufacturing, designers spend significant time creating durable and aesthetic mailboxes. Designers ensure that the color, style, finish, and materials match the curbside aesthetic. Also, one addition to detail can make a big difference in appearance. A post-mount mailbox with the same color and design looks more attractive than a different post and a different mailbox. 
Customize Post-Mount Mailbox 
There is one more advantage of having a matching post-mount mailbox. Selecting a mailbox with a matching post allows you to choose various designs and features only available for a post-mount mailbox. 
Design features depend on the following things:
Whether the mailbox Is mounted on top of the post

Whether a cantilevered arm supports the mailbox

Must Include a final top of the post or has any decorated post cuff where the post can meet the ground (to hide any unpleasant concrete)

Designer brackets and scroll to enhance curb appeal 
Additionally, you can also select hanging plant fixtures on the post-mount mailbox with post combos. Finally, when you have got the post-mount mailbox with post sets, you can get it approved by the local postmaster for safe and on-time delivery. 
Ultimately, this will benefit those who feel inconvenience due to a poorly placed post-mount mailbox. 
Installing Post-Mount Mailbox In The Concrete Base
If your post-mount mailbox has knocked over, broken, or needs replacement, you can easily do it yourself. Read the steps and implement them carefully. 
Step 1: Dig The Hole For The Post
Start by measuring the size of the post with the help of a shovel or post-hole digger. Dig out a hole of ⅓ to ½ for the length of the post. The hole should be three times bigger than the width of the post. If the post is 4 inches wide, the hole should be 12 inches. Also, add 6 inches of compact gravel to the hole's bottom. 
Step 2: Pour The Cement Or Concrete 
Pour the cement or concrete mix into the hole, and apply evenly from all the sides. It is crucial to pour concrete evenly on all sides. 
Step 3: Fill The Hole With Water 
Pour one-gallon water into the mix of concrete or cement. Pour it slowly and mix both the components well so that concrete uses all the water. 
Step 4: Let Everything Set 
The most crucial step is to hold the post till it can carry its weight, And you are done. Let the post set and dry for at least 20-40 minutes. Cover it with soil or even out the concrete to make it look nice when the concrete dries, and the post-mount mailbox is ready. You can even make a pedestal and decorate it with plants, pebbles, artificial grass, etc. 
The post-mount mailbox in the concrete base is ready. It's that easy. Now you have a decorated and durable mailbox. In case you wonder what decorative post mount mailboxes look like, read ahead. Here are some cool and aesthetic inspirations for your curb.  
James Island HOA Mailbox
A durable and post-mount mailbox of high tensile steel and powder-coated finish is here. It is excellent to withstand all kinds of bad weather. This mailbox will instantly upgrade your home front and make it look classy. Moreover, the design finial post caps, bracket, and stylish pole will bring all the attention to your outdoor design.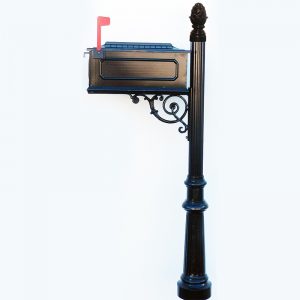 Madeline 110-2 side Mount 
Madeline post-mount mailbox is all set to enhance your home's outdoor attractiveness. These are double mailboxes, so they are very spacious and can carry multiple parcels at one time. Not only that, these mailboxes are durable and finished with powder-coated aluminum to stand strong against all bad weather.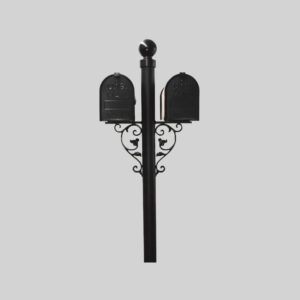 Heritage Isles HOA Mailbox 
This post-mount mailbox is galvanized steel and premium powder-coated finish for a lifetime of service. It will give a stunning impression of your home and bring aesthetic vibes to your curb appeal and the home front. Also, the mailbox safely carries multiple letters and parcels with its huge mailbox body.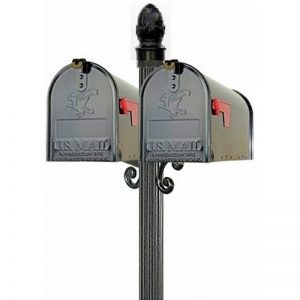 So that is what ideal post-mount mailboxes look like with finial tops, bases, scrolls, and brackets. 
Get solid mailboxes and other parts from the Mailbox And Sign Solutions. An all-in-one stop for mailboxes, signs, brackets, backers, frames, etc. Cut the hassle of DIY and call us for mailbox repairing, replacement, and refurbishment services. Who are we? The leading mailbox suppliers with an excellent team to complete your tasks in minutes.