The USPS is responsible for supplying mailboxes to over 160 million addresses each year. A few of these addresses include apartments or homes, while others include commercial and businesses properties. In addition, they all consist of a mailbox where USPS carriers can drop off the mail. There are a lot of different sorts of mailboxes, though. Whereas you might know about the conventional curbside mailboxes, you are likely to be astonished to know about the substitute mailboxes assisted by the USPS. Mailboxes are a small and compact yet necessary part of any residence. The style and color variant of your mailbox can make it a pleasing accent item, whether it's on your front door or at the boundary of your driveway. Mailboxes come in a variety of sizes, styles, and materials, so there are many things to consider when picking one. Luckily, it's not that tough to find one that perfectly matches your requirements and increases your home's curb appeal. When you think of curbside mailbox installation alongside a highway, you should know whether they pose a risk to motorists or residents since highways are the main roads that link major cities of the United States. Hence, they generally pose a higher legal speed limit than secondary roads. Both the USPS & the FHWA of the U.S. permit mailboxes to be placed along highways. When doing so, though, you need to follow a few basic safety standards.
Here is the list of safety rules that you must follow when installing curbside mailboxes alongside a highway.
Placing It On Left Side Of The Road

Installing Too Far Away Or Too Close From The Curb

Installing Mailbox Posts Too Deep

Using A Concrete Mailbox Post

Anticipating Curbside Mailboxes Are The Mere Alternative
Placing It On Left Side Of The Road
You shouldn't make the mistake of placing your mailboxes on the right side of the road. The U.S. FHWA (Federal Highway Administration) mailbox installation guidelines describe that mailboxes must, when feasible, be placed on the right side of the road when installed alongside the highway so that mail can effortlessly pull over to collect and drop off mail. 
Installing Too Far Away Or Too Close From The Curb
One more common mistake that people often make when placing curbside mailboxes is placing them way closer or too far away from the curbside. As per the mailbox installation instructions of USPS, mailboxes should be installed ranging between 6 and 8 inches far from the curb. Installing mailboxes closer than 6 inches to the curb prevents couriers from pulling off the roadside while placing them more than 8 inches away prevents them from effortlessly reaching the mailboxes.
Installing Mailbox Posts Too Deep
As per the United States Postal Service (USPS), curbside posts should not be installed any deeper than 2 feet from the ground. When placing the curbside mailboxes, mark the depth of 2 feet and don't go any deeper. If your curbside mailboxes are placed too deep, they may not break if hit by a car or any motor. To install your curbside mailbox correctly, you may seek professional assistance. However, mailbox installation cost varies from region to region.
Using A Concrete Mailbox Post
Depending on your regional municipality, utilizing concrete mailboxes may be forbidden. This is because concrete mailbox posts contain a safety risk to motorists and their cruisers. If a car hits a concrete mailbox post, the motorist or passengers could be severely injured. Consequently, a few municipalities need property managers and developers to install curbside mailboxes on a breakaway-kind mailbox post. Consider contacting us if you want to seek mailbox installation services from a well-skilled professional.
Anticipating Curbside Mailboxes Are The Mere Alternative
If you think that the curbside mailboxes aren't the mere mail system permitted for residential communities, then you are wrong here. There are many other mail systems available. One of them is cluster box units (CBUs). A type of centralized mailbox system, Centralized Box Units include a wall-mounted or free-standing unit consisting of several compartments. Each individual tenant of the neighboring community poses his/her own mail compartment in the Centralized Box Unit. Picking CBUs rather than curbside mailboxes could save you a lot of bucks while also enabling easier and faster installation.
Post buying curbside mailbox posts for your residential community. You'll have to install them properly. However, this sounds simple and easy. You must follow some necessary steps to make sure the curbside mailbox posts are safely installed. Lamentably, a few property managers and developers make one or more of the above-given mistakes when installing the curbside mailboxes.
Uniform Standards & Specifications Of Mailboxes
There are several kinds of mailboxes available in the market these days, and each of them has different standards and specifications. Plus, they have different installation criteria. Here are the detailed mailbox installation tips that one should follow:
Check Postmaster General's Seal
Each mailbox design has to be reviewed and obtain the Postmaster General's (PMG) seal of approval before delivering to the market.
Putting The Mailbox Post
Here are a few useful instructions to follow when installing your curbside mailbox:
Place your curbside mailbox 41″ to 45″ above ground level.

Put your curbside mailbox 6″ to 8″ back from the curb area. In case you do not have an elevated curb, reach out to your local postmaster for guidance and assistance.

Place your house's serial number on both sides of the curbside mailbox with the help of 4-inch smoothened brass numbers
Installing The Post
After that, the next step is installing the mailbox post. The best mailbox post supports are sturdy but fall or bend away if a car strikes them. The Federal Highway Administration (FHA) recommends:
A 2″-diameter standard aluminum or steel pipe or a 4″ x 4″ wooden support.

Prevent potentially dangerous and unyielding supports, like concrete posts, heavy metal pipes, and farm equipment (for instance, milk cans filled with concrete).

Install your mailbox post no more than 24″ deep.
Which Mailbox Style Would Be The Best Pick?
Generally, mailbox styles and colors vary broadly, particularly for rural and urban settings. The best mailbox style partially relies on your local rules and the sort of home you reside in. Pick an effortless mailbox type for you but still feasible for postal workers.
Here are a few of the mailbox styles that can match your requirements:
Alexander Ridge Hoa Mailbox
It is an ideal post-mounted mailbox solution for residents who want a conventional mailbox. This mailbox post has been restructured and is now better than ever. It is designed from toughened steel. Well painted with a rust-resistant powder-coat finish, it offers long-lasting quality against the weather. Want to purchase? Visit us today!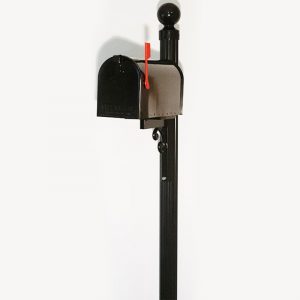 American 110-2
This mailbox is designed from galvanized steel and a premium powder-layering finish for a long-lasting service. With amazing initial impressions for your residence, it gives curb appeal and charm to your front porch or yard. American 110-2 mailbox is manufactured to safely store various small to large mails and parcels and safeguard your packages from the elements. Want to shop? Visit us now!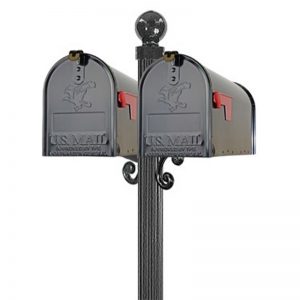 American 121-2-TP1
These American lineup mailbox posts come in an excellently shiny black color variant that offers you the simple and easy design choice to stand outside your residence. It is designed with great quality metal layered with an aluminum sheet from top to bottom. The mailbox post is available at the best price at Mailbox And Sign Solutions and contains various parcels. To buy the product, visit us right away!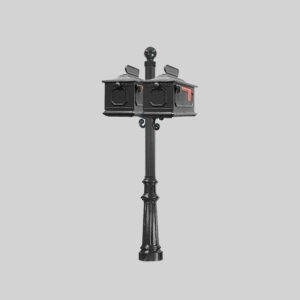 Astor Choa Mailbox
This classic post-mounted mailbox sports an appealing design that will likely include curb appeal to any business or home. It is designed from heavy-duty steel elements and is coated with a rust-resistant powder for durable quality against poor weather. Want to buy? Visit us now!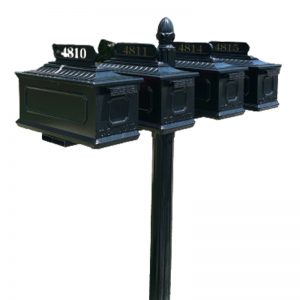 If you want to have an appealing curbside mailbox installed at your residential community or commercial property, you must follow some basic yet important guidelines. You can consider reaching out to Mailbox And Sign Solutions for professional assistance. We are always ready to fulfill your mailbox installation requirements and provide you with excellent services that may delight you. So, what are you waiting for? Visit us right away.