This new era is all about text messages and emails, but receiving mail is something that has its own charm. But, the role of a mailbox isn't limited to receiving mail; it also plays a very important role in deciding the quality of your home's curb appeal. Thus, while you plan to invest in modern mailboxes, make sure that you are selecting the one that matches your home exteriors. You should also ensure that you are buying the right mailbox that is durable and worth the money you are paying. However, buying a new mailbox is not an easy task. The availability of numerous choices in the market can easily overwhelm you, especially if it's your first time buying one. Don't worry, as we got the solution to all your problems right here. At Mailbox and Sign Solutions, you get several high-quality mailboxes that will perfectly fit your needs and your home's curb appeal.
Palma 111 White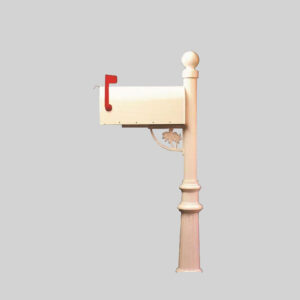 The beautiful and elegant Palma 111 white mailbox is one of the most popular modern mailboxes among our clientele. The white tone of this mailbox will go perfectly with your home's aesthetic. Check everything you should know about Palma111 White Mailbox:
It is built from alloy steel, and the mailbox is sturdy and will last long in front of your home.

The mailbox will not dent or rust.

The palm tree pattern at the bottom of the mailbox makes it an ideal choice for your home.

Your mail will not get wet on rainy days.

Since the color of the mailbox is unique, it will stand out from all the other mailboxes in the area.

The mailbox is low maintenance.

You can easily install this mailbox on the side of your curb or in front of your lawn.

The mailbox has a red flag on the side for mail to indicate the mail carrier.
Standard 4″ 030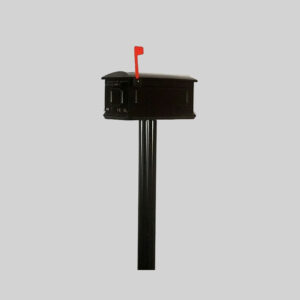 The house-shaped mailbox is a preferred choice among the black modern mailboxes. The Standard 4″ 030 Mailbox will add a new appeal to your home, and it boosts the following features:
The mailbox is made using 100% coated aluminum, giving you the best value for your money.

It is dustproof and won't get dirt stuck on top or inside your mailbox.

This mailbox also won't rust, and therefore you can keep this mailbox around for a long time.

You don't need to spend all your important time on the maintenance of this mailbox.

It also features a reliable locking system.

You can use this mailbox just outside your main door.
Abigail 021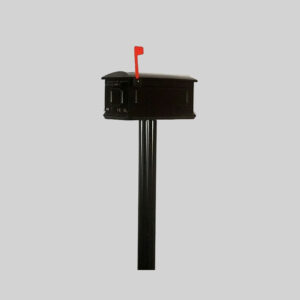 Abigail 021 is a perfect mailbox for those who are looking for one that can suit their lawn's aesthetic. Being a great compliment to your lawn's and main door's beauty, this mailbox showcases the following features:
This mailbox has a blueish contrast, making it unique from all the mailboxes you've seen.

The color and floral pattern will stand out in our lawn area, making the place look aesthetic.

It is coated in aluminum from top to bottom to last longer.

The aluminum coating makes it rust-resistant and stops it from damaging because of the weather.

The mailbox is also very easy to take care of.

It also has a large inner compartment.
Arcane 331 TP2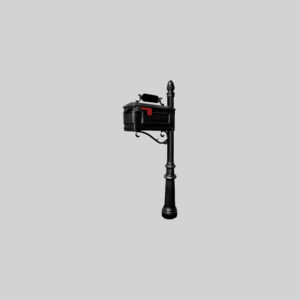 If you are searching for a mysterious-looking mailbox to increase your doorstep charm, then Arcane 331 TP2 is perfect. Being a popular choice among modern mailboxes, this mailbox enjoys the following features:
The black mailbox is built with fine quality metal that is ideal for the long run.

This durable mailbox will not deteriorate or corrode due to weather or time.

Tracking is made easy with the red flag signal on the side of the mailbox for the mail carrier.

The strong and superior construction of this mailbox will keep your letters and packages dry.

The pole's design makes the mailbox stable and easy to install.
Chelsea 010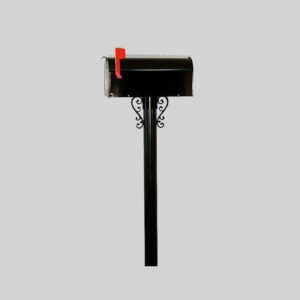 This simplistic black mailbox will catch everybody's attention towards your front door or lawn. Being a sturdy companion that will stand erect facing harsh weather conditions, this popular choice among modern mailboxes enjoys the following features:
Covered in 100% powdered coated aluminum Chelsea 010 mailbox is strong and reliable.

Mail pick-up red flag signal is placed on the side of the box.

Easy-to-open lids make it easy to recover your packages.

Enough capacity to collect mail such as magazines and packages.

Keeps your mails safe from dust and water.
Madeline 110 Side Mount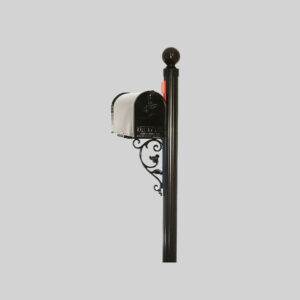 Madeline 110 Side Mount Mailbox is a single side-mount mailbox that is the perfect complement to your home's overall appeal. It is one of our bestsellers in the modern mailboxes category and flaunts the following features:
This mailbox features a sleek pole that makes the design look unique.

Unlike other mailboxes, this has a side mount instead of a front mount.

Madeline has extra storage space for big parcels or a huge stack of mail.

The black color makes this mailbox look sleek.

It safeguards all your mail and courier.

It is the right product for you if you want something simple and stylish.
Conclusion
If you are in search of modern mailboxes that will increase the beauty of your curbside or lawn, then your search ends here. Mailbox and Sign Solution have everything you need. We have the best quality products that will last for a long time and will not get damaged with time. The mailboxes will also keep all your mail safe.
We are the leading manufacturers of mailboxes, street signs, and address plaques. Whatever you need, we have got you covered. And if you want to add a personal touch to your mailboxes, you can get them customized. Furthermore, you don't have to worry about the installation of the mailbox because we also provide installation, repair, and restoration services to ease all your mailbox-related problems.
FAQs
Can you put your mailbox anywhere you want?
When installing a mailbox, you should keep in mind that you should place a mailbox at a location where person can easily access the mailbox. For instance, roadside mailboxes are often placed on the right side of the road. 
Do I need permission to install a mailbox?
Before installing or relocating your mailbox support or mailbox, you need permission from your nearest post office or mail person. It is necessary for everybody to get permission from the post office first in order to do this. 
On what side of the driveway does a mailbox go?
As per the instruction of the U.S. Federal Highway Administration, you should place your mailbox on the right-hand side of the road to provide ease of access to the mail person. 
How long does it take to replace a mailbox?
Installing a new mailbox does not require a lot of time. This work can be completed within a day. You can also ask a mailbox installing company, like Mailbox and Sign Solutions, to do the work for you.