Modern Address Plaques are certainly the most crucial elements of the curbside. And, they are growing significantly in modern homes. If house numbers are the house identity, modern address plaques are its face. They also add a style and design to your curb and create uniformity in the community.
However, did you know that there are certain rules you should follow to install the modern address plaques? This blog will discuss the five rules you must follow if you put up modern address plaques on your curb. 
Modern address plaques are getting quite popular in home exterior designs. It's an economical and amusing way to add to your home's view and personal touch.
Modern address plaques offer various things to complement your house and personality if installed and displayed nicely with multiple options, color, style, and font options. 
So, here are the five rules you have been waiting for. These rules are following the HOA community, so keep this blog post saved with you because it will be very helpful in the future. 
Rule 1: Size And Visibility
After doing some research, you may find that your city has criteria to keep the number of modern address plaques visible. Ensure the accurate size before getting the wrong size for your home. You should be able to see your home number from the street. Here is the size you need according to the street size. Even hanging address plaques are good, but they should be big enough and serve their purpose rightfully. 
|                               Street                                | Modern Address Plaques Sizes  |
| --- | --- |
| 0 to 69 feet | 3" or larger  |
| 70 to 110 feet  | 4" or larger  |
| 111 to 132 feet  | 5" or larger  |
| 133 to 160 feet  | 6" or larger  |
| 161 to 300 feet  | 8" or larger  |
| 301 to 385 feet  | 10" or larger  |
Remember that these size guidelines are a suggestion from HOA and other authorities, but there is no problem if you may want to use bigger signs than these. 
Rule 2: Use Contrasting Colors 
While selecting the color scheme of the address plaques, you can only play with contrasting colors. If you have selected a dark mounting, the dark text wouldn't be appropriate. The text color has to contrast with the Mount of the Modern address plaques, so the text doesn't blend with the background. If your address plaque is without Mount, the wall has to be contrasted. Here are some common color choices that can never go wrong. 
Black and white 

Deep black and deep yellow

Deep green and deep yellow 

Deep brown and white 

Deep blue and white 

Mexican red and white 

Deep red and deep yellow

Deep blue and yellow 

Deep green and white 

White and deep yellow 

Deep brown and deep yellow
Whether installing vertical address plaques for house or horizontal, keep the contrasting color scheme in mind.  
Rule 3: Material Quality
Nothing is worse than spending money and seeing your belongings deteriorate by the bad weather. Modern address plaques have to go through much wear and tear in the environment, so they must be durable. Choose high tensile strength materials with a powder-coated finish to make them last longer.  
Rule 4: Style And Display 
The style of your modern address plaques should reflect your home's character and personality. If you do not prefer to give a theme to your home, then it is perfectly fine. A traditional home need not have a traditional number sign. Also, you can add scrolls, and brackets, to give your signs an aesthetic look. 
However, if you want to give your home a particular look or character, you may take clues from the following. 
Traditional homes: Traditional address plaques must fuse with the design and structure. You can also do a fancier script carved on a dome, oval, bell, colonial, chamfered, dome, or scallop-shaped. Keep the colors classic, fancy and easy to read.
Modern homes: Modern address plaques can go slightly larger and have more edgy vibes. Use silver, dark bronze, matte bass, or any color. Keep it simple. 
Mix homes: If you want both or don't want to use them, you can break the rules. Keeping the color and size guidelines in mind, you can use different durable materials and sizes. For instance, if you own a farmhouse, use the wood backdrop and keep colors simple and contrasting, like white, black, etc. 
Rule 5: Display 
Other than keeping the signs bigger and contrasting, one crucial point is to make them look clean and easily visible. Never cover your modern address plaques in plants and landscape. Your address plaques are your house identity. Make them clear, bright, and easily visible to the visitors. 
If you have a gate in front of your curb, it is a perfect chance to add the address plaque numbers on the gate itself. You can draw all the attention to your home or make your address signs visibly brighter by adding lights. 
Furthermore, if your mailbox already has address numbers, you can skip installing modern address plaques. Or, you can install small address plaques for mailbox if you want both the mailbox and curb to have an identity. If you have a garage in front of your curb, put up the address sign on top of it, and it would look unique and easily visible to visitors. 
Moreover, if you wish to jazz your home in the old-school farmhouse style, use a wooden address plaque with black lifted numbers. 
Wrapping It Up!
To wrap it all up, use big signs, easily visible across the streets. It will make the work easy for the mailman, and your new friends will not have to search for your address on Google maps. Do not cover your signs in the landscape, and make them built-in contrasting colors. Additionally, you can use any style that compliments your persona and the character of your home. Modern address plaque signs are underrated additions to the outdoor styling, but we all know they play a crucial role in our lives and can add up to our home's luxury.
Do you want product recommendations for outdoor styling? We have got you covered. 
We have compiled a list of items you can add to your curb to make it look attractive and sophisticated. 
Address Plaque 10 X 16 PVC Glenview
Here is a vintage-style address plaque designed especially for ar sighted creative heads. This aesthetic sign has a 100% powder-coated finish, made with durable green bade and solid golden borders. You can notice the classic-retro font, a unique shape, and premium detailing that will make you an expert in exterior designing and give your home a traditional character.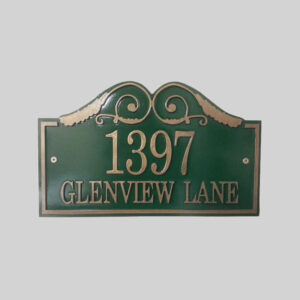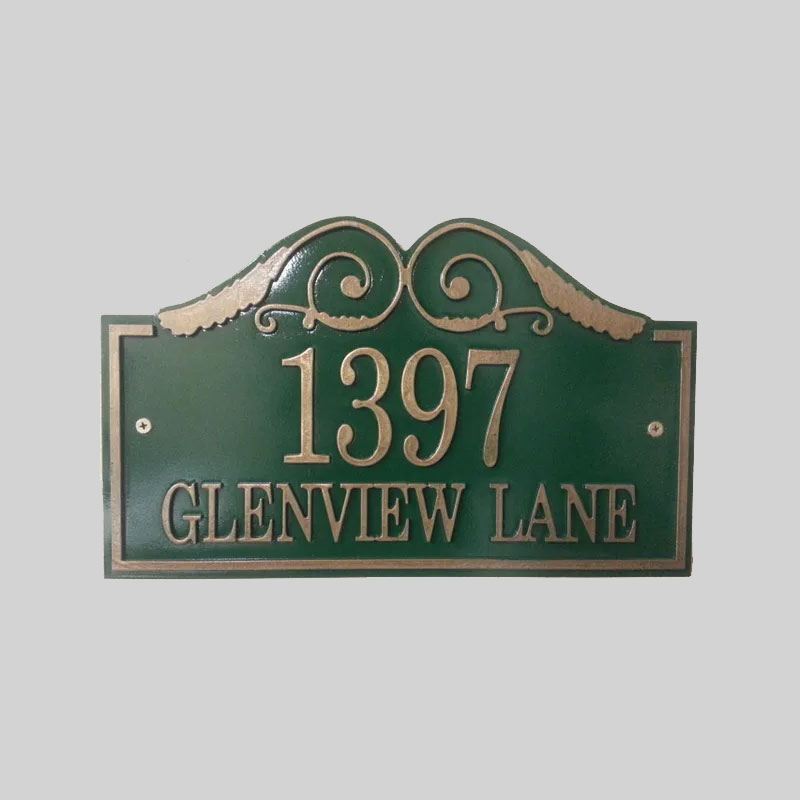 Address Plaque-5″ Vertical Stand-Off Numbers
Simple yet elegant vertical address plaques for the house are perfect to be installed on white walls and wooden backgrounds. The color of the plaque is blue, and the fonts are colored with contrasting paints. Mount this on the entrance, mailbox, or curb to draw all the attention to your home instantly.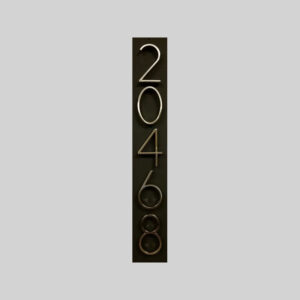 Address Plaque 9 X 15 Corian Rochelle
It is a beautiful modern address plaque that can also be used as hanging address plaques. It is a durable and classic address sign with a black mount, oval-bell shape, and golden-colored font. Also, it is elegant and good to add charm to your home's beauty.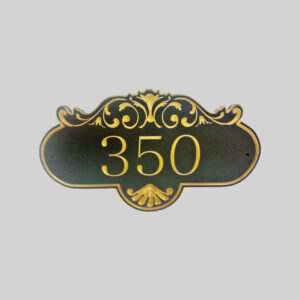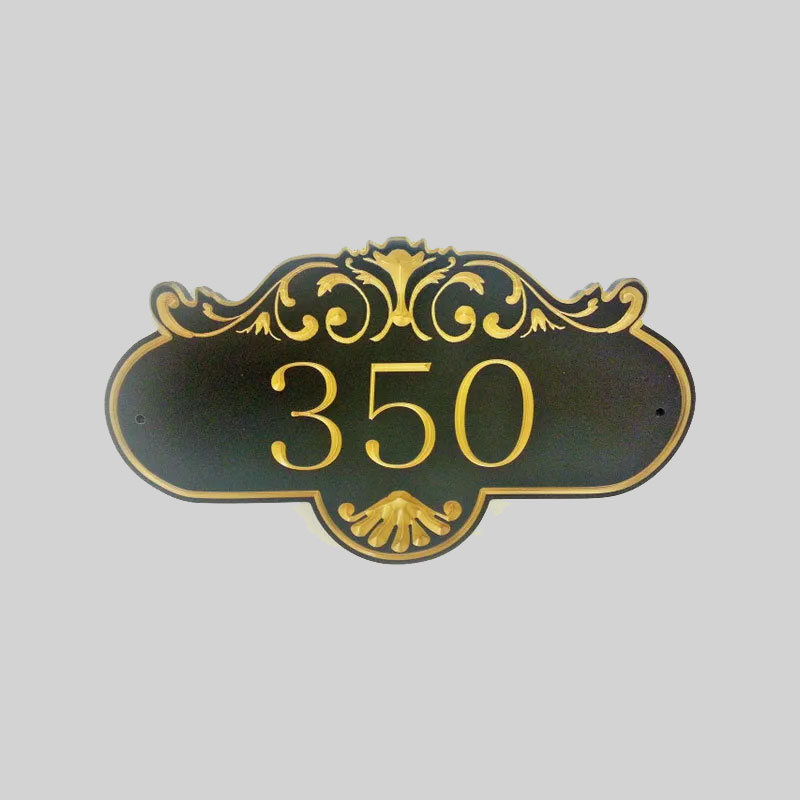 You can buy all these elegant address plaques from the Mailbox And Sign Solutions, your partner in the renovation. We are one of the leading and most trustworthy manufacturers of mailboxes and signs. You will find hanging address plaques, vertical address plaques for house, address plaques for mailbox, and all kinds of modern address plaques on our site. Also, we help our clients in repairing, reinstalling, and refurbishment of mailboxes, signs, and more. Visit our site to get the best deals on all products and services.