Are you up to renovating your home? Don't forget the home entrance or front yard. The home's front entrance and yard are the first things people notice while entering your home. You can add lots of aesthetic elements to your home. However, the first few things that might have come across one's mind are paintings, flowers, vases, etc., but what about the things that we often ignore and are equally important. Yes, we are talking about mailbox sign and brackets. This blog post will look at some aesthetic mailbox sign options, address plaques, and brackets and see how they effortlessly enhance your curb appeal. But, first, let's look at some advantages of installing them in your home. 
Why Should You Install Mailbox Sign And Brackets? 
Mailboxes, mailbox signs, scrolls, brackets, and address plaques; every design accessory has some purpose of fulfilling. 
However, mailboxes and signs are not just decor accessories. You would be amazed to know that until 1863, mails were not delivered to homes. People used to post letters to the U.S mail, and recipients had to receive them by visiting the post office. Furthermore, people realized the need for mailboxes in 1890, and the first mailbox sanctioned by the USPS was patented on March 9, 1858, by Albert Potts. Since then, mailboxes have been an essential tool for Americans to get their letters and post-mails to the doorstep safely. 
Moreover, mailbox signs, address plaques, and other community signs guide us and help clear confusion. On the other hand, scrolls and brackets add an aesthetic and sophisticated touch to our curb appeal. 
So, it would help if you consider installing mailbox sign options, address plaques, mailboxes, and community signs on your curbside. Trust the process and enjoy the Instagram-worthy curb appeal of your entrance and home's yard. You can also give a vintage look to your curb or make it minimalistic with a sober mailbox sign, double mailbox post, or community mailboxes. Now let's look at some interesting decorative yet convenient mailbox styles and community signs to serve your needs.
Aesthetic Curbside Decor Accessories
Scan your curbside and entrance carefully. List down elements that it is lacking. For instance, some people might not have enough plants in the surrounding, or some may not have street lights and signs. Each and everything serves a unique purpose, and without them, our mission of renovation is incomplete. 
Not to mention, keep your convenience and budget on the top priority. Speaking of convenience, if you are looking for a multi-purpose and storage mailbox, here's a quick tip. 
A Double Mailbox post would be a convenient and aesthetic mailbox for your liking. Because a Double Mailbox post can easily store multiple letters, booklets, and parcels also look good to enhance your curb appeal. Here are two super elegant and convenient mailboxes. 
If you think convenient multi-storage and durable mailboxes won't look good with your curb appeal, we will burst your misconception. 
Abigail 010-2 White Mailbox 
Abigail 010-2 white is a Double Mailbox featuring a solid body and elegant style, which you can install to make your home look sophisticated. This classic white double mailbox is made from a rust-resistant coating, which doesn't allow its body to oxidize and get destroyed by the bad weather. Also, they are in a Double Mailbox post style so that you can store multiple parcels and letters efficiently. 
Renovating tip: Customize this double mailbox with a mailbox sign and vertical address plaques for convenience. This Double door Mailbox already has beautiful scrolls to add to its elegance, so you can add a base, post caps, or change the pole. Moreover, white is a classic favorite choice for many people, but you can change it to complement your curbside.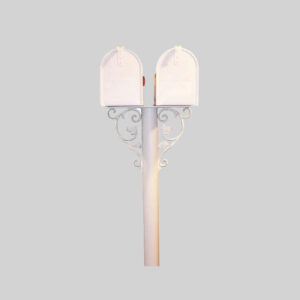 Charlestonian 221-2 Mailbox
Here is another beautiful Double door Mailbox in your service. Charlestonian 221-2 is the most demanding house-shaped mailbox with the necessary decorative attachments. It has a stylish pole with a post cap and solid base that comes with a mailbox sign to write your house or apartment number. This double mailbox is made from high tensile strength materials and a powder-coated aluminum finish that makes it durable and rust-resistant. 
Renovating tip: Get the name written on the mailbox sign in golden or silver color and install it somewhere adjacent to your home. Installing it in the front will make it blend with other surroundings, and people won't easily notice the house-shaped structure. Now, adding scrolls and brackets is not necessary as it already has a mailbox sign in it so you can grow some flowering plants around it. Although if you want, you can add a bird-shaped scroll or bracket on the top to give it a nest-like structure.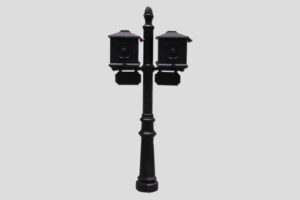 CBU 16 Door -Decorative Mailbox
Who says community mailboxes can not look beautiful? Here is a decorative community mailbox with 16 compartments. It can efficiently store letters and parcels for 16 families or individuals in a building or area. Additionally, it is made with robust and durable materials and a rust-resistant finish to stand strong against bad weather. 
Renovative tip: Unlike the curbside mailboxes, you cannot make major changes to the community mailboxes. But what you can do is make an attractive shelter for them, plant flowers, or keep some pots around it. Also, CBUs can be mounted on concrete bases or pedestals to enhance their look. And these do not need a mailbox sign for writing addresses as they already have compartment numbers. Astonishingly some people also mount community mailboxes on walls for the same purpose.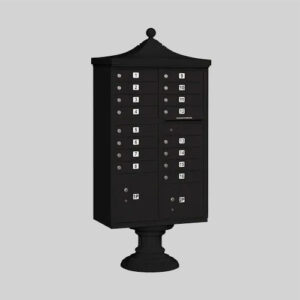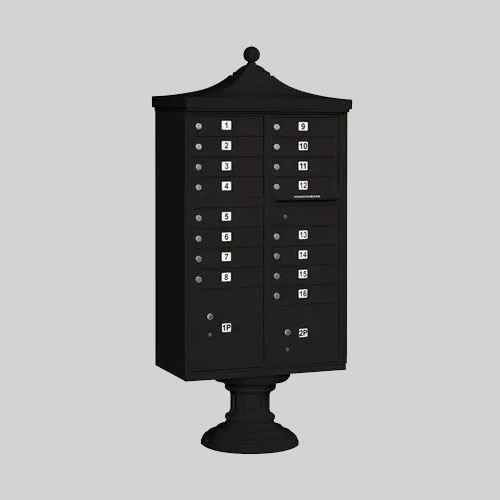 Scrolls And Brackets 
Scrolls and brackets are metallic attachments to mailboxes, signs, and streetlights. Other than that you can use them for decoration purposes too. For instance, these brackets that we have mentioned below. 
Chelsea Bracket 
The Chelsea bracket is ideal for hanging climbers and flowers on your entrance. This can make your entrance look beautiful and luxurious without disturbing the pathway. Also, this is an affordable way to decorate the garden area and lawn.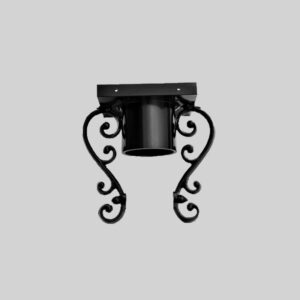 Florence Bracket 
The alluring Florence bracket can make your entrance look sophisticated. You can attach it under community signs, mailbox signs, street lights, etc. Moreover, you can attach a ringing bell if you own a small business, store, school, or clinic. Your customers would find it convenient and helpful while visiting you.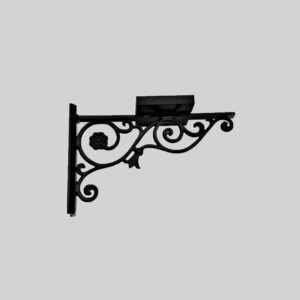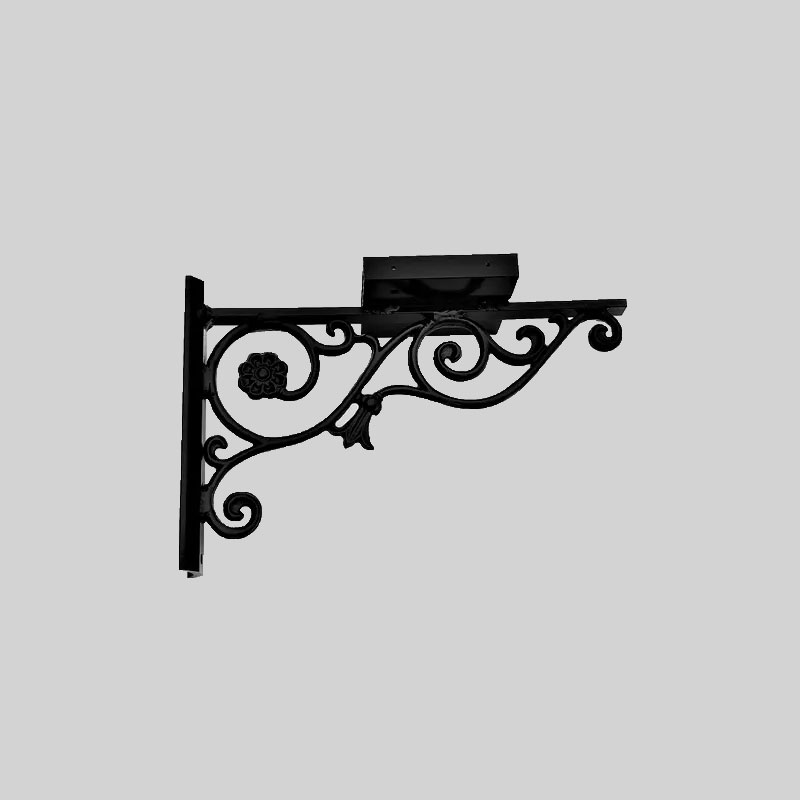 Independence Bracket 
This bracket in eagle design is ideal for attracting visitors to your business. It reflects the idea of freedom, and if you are looking for something different, then it is ideal for you. You can get more specific designs from the manufacturer if you want.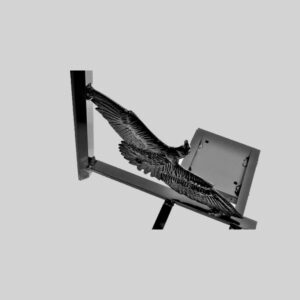 Palma Single White Bracket 
Another specific design bracket for you is to add an elegant, luxurious touch. Also, it gives cool funky vibes, so install it in your garden area, streets, or outside stores. It has a wide vacant space, so you can also use it as a mailbox sign.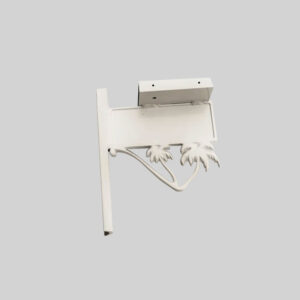 So, these were some handpicked mailbox sign options, community mailboxes, and double door mailboxes for your convenience. Apart from these product ideas, you can grow aesthetic flowers and climbers in your entrance, garden area, or yard. 
You can buy mailbox signs, address plaques, scrolls, brackets, double mailbox, and community mailboxes from the Mailbox And Sign Solutions. We are the leading producer of aesthetic and convenient outdoor styling products. And now you don't have to search 'mailbox installation near me' on multiple browsers because we can install them for you. Also, we do repairing and refurbishment services for mailboxes and custom signs. To browse about our products and services visit our store.