What would happen if you need to visit a new place and don't find any sign or address plaques that you hope to visit. House number isn't a choice, it is a necessity as the house's main door. The primary reason for having a house number is that it makes it a lot easier for mail carriers to reach the right address. Also, the house number helps the guests to find their particular destination. So, these are the key objectives we need for our house numbers, but there are countless other reasons behind the house number plaque requirement. It is essential to thoughtfully select the house number designs as they set your home apart from the others. Moreover, they give the house exterior a certain flair. If you are deciding to give your house number a personal touch, you have various choices. To makeover your home, you can opt for weatherproof and mounting styles like traditional flush mount or modern floating ones. Apart from this, you can go for different fonts, colors, and designs based on your suitability. Here, we have shared a few precious creative ways to display house numbers. 
Top-Down Approach
In case you aren't able to use a designer address plaque because of lack of space on the exterior of your home. Don't worry, still, you have a chance to add a stylish house number to add a personal touch that is equally useful to complement your house. You can go for the vertical house number plaque instead of the horizontal. Moreover, these are in the trend right now. If you desire something for a top-down approach, we have already amazing products, and check out here to order directly from Mailbox and Sign Solutions: 
Address Plaque 5 X 13 Corian Vertical Fountain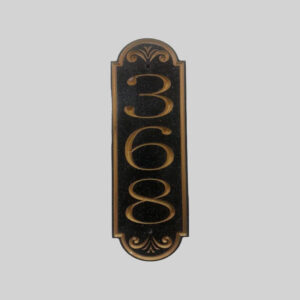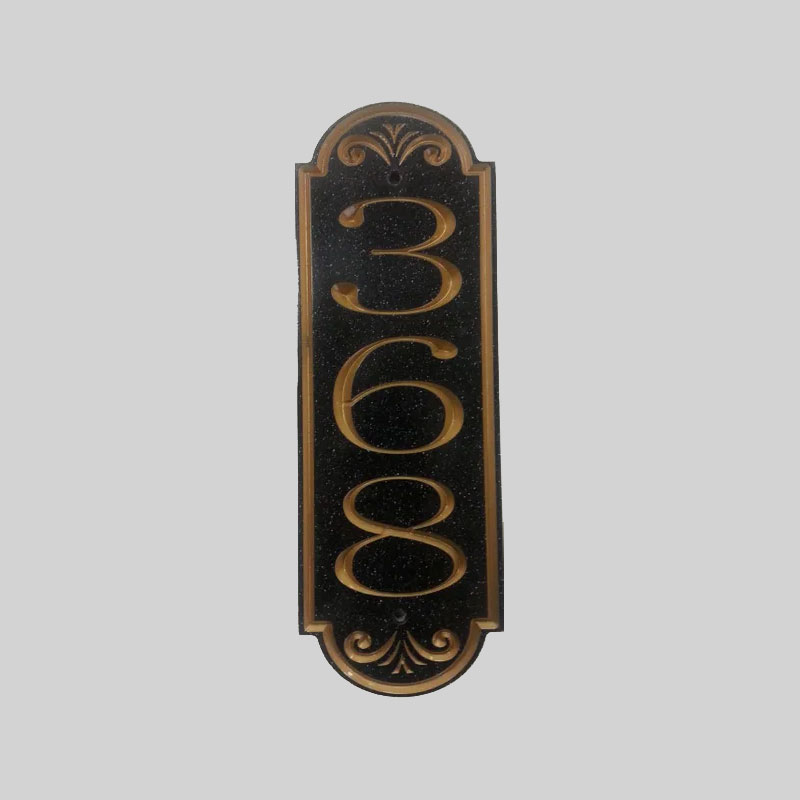 Here comes our beautiful and modern product vertical address fountain plaque made with a custom Corian design. This vertical address sign is classic and essential to nail outside the door. Address plaque 5 X 13 Corian Vertical Fountain is available under the best pricing made with super quality material. You can now buy the vertical house number sign from the Mailbox and Sign Solutions. 
Out-of-the-Box Mailbox
If you want to add a dramatic touch to your mailbox or home. You can use your stylish and luxurious mailbox to display your house number. You are inspired by the idea of mailbox address plaques. Why don't you try these awesome house number ideas? We have selected a few house number plaques for you from the latest collection. Here are some interesting address plaques from the Mailbox and Sign Solutions. 
Address Plaque 9 X 15 Corian Rochelle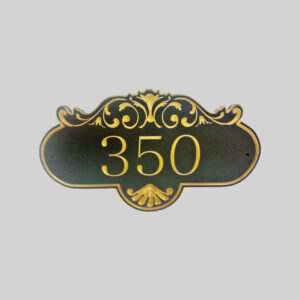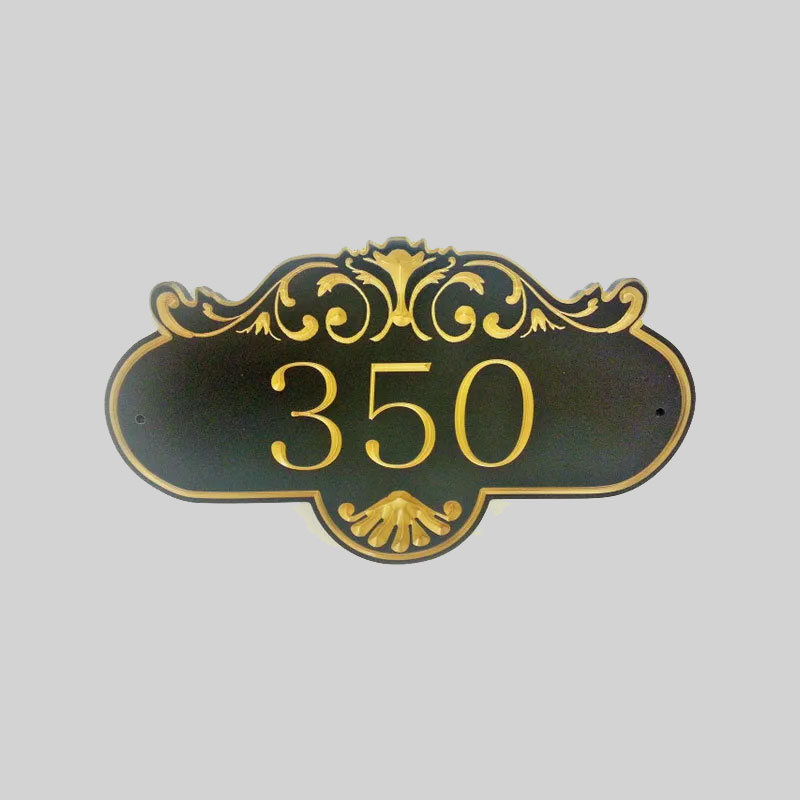 Address Plaque 9 X 15 Corian Rochelle is perfect if you are looking for something worthy. It comes at affordable pricing with good quality material that can last longer and is worthy of all the patterns. To buy now, order from the Mailbox and Sign Solutions. 
Address Plaque 10 X 16 PVC Glenview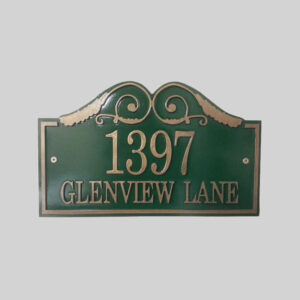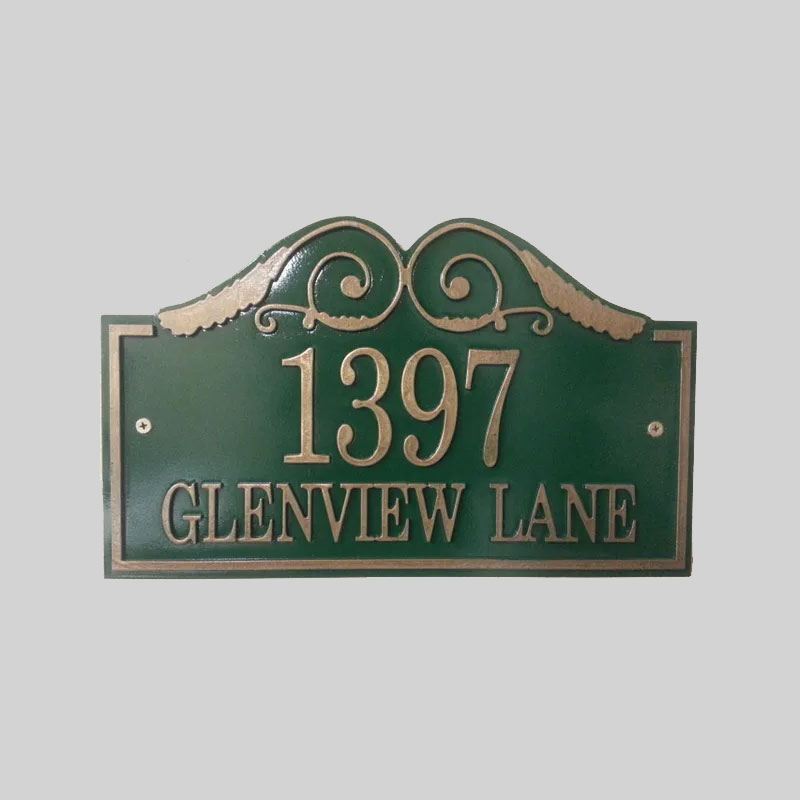 The beautiful address plaque is made with 100% powder-coated aluminum. 10 X 16 PVC Glenview is designed with a combination of a green base and golden borders to enhance its look. This address plaque upgrades your mailbox and house to a dashing look. Shop now at a reasonable price from Mailbox and Sign Solutions. 
Address Plaque 6 X 13 Color Core Green On White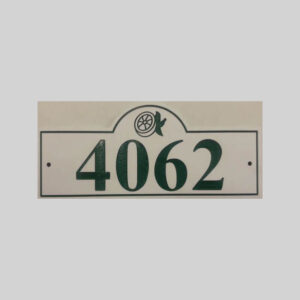 If you are wishing for something that is simple yet elegant, then this address plaque is designed for you. Address Plaque 6 X 13 is available in green on white, suitable for vintage houses. Besides, the pattern of the design states simplicity. Add to cart to order immediately from the website. 
On The Fence
This is another creative way to display house number on the fence. By following this idea, you can clearly avoid expected and usual ways to install the house number plaque. Additionally, it is perfectly positioned to spot the address by passersby or neighbors easily. If you are feeling like buying the house number sign for the fence, here you can look at the best address plaques: 
Address Plaque 6X12 PVC Deco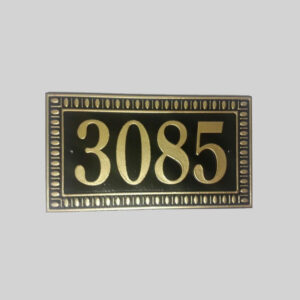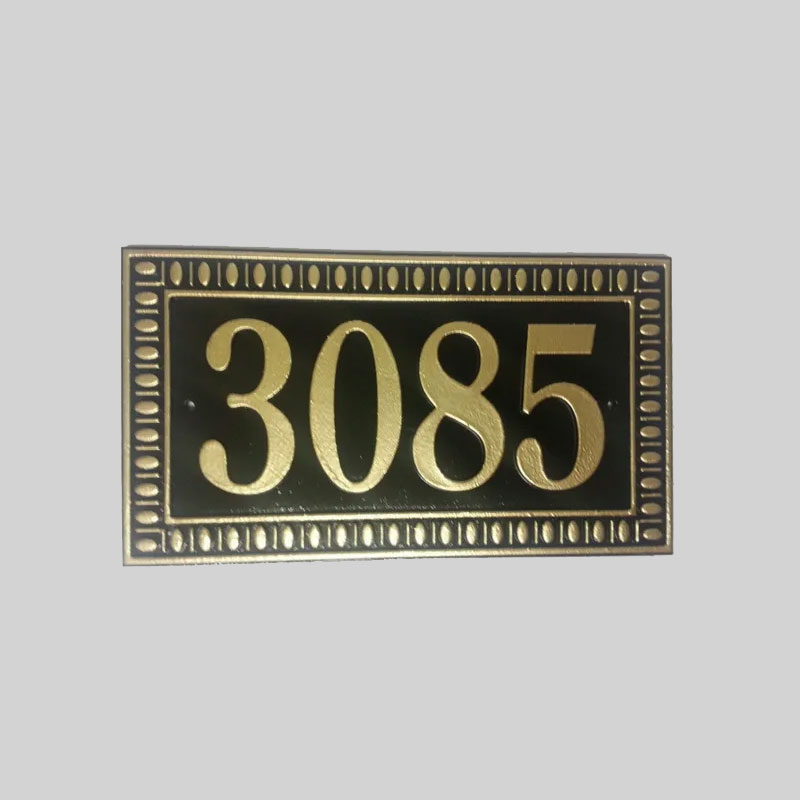 House number plaque is the crucial accessory for the house, so you can't ignore them. Hence the address plaque is the perfect house number sign to decorate your sweet home. This product is presented in the black and golden border. If you want to buy this, visit our website to buy it now under affordable pricing.  
Address Plaque Color Core Black On White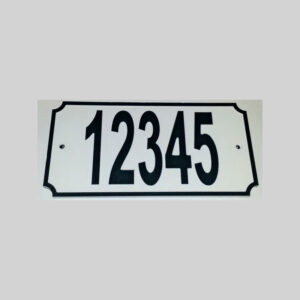 The color pattern of this address plaque design states the simplicity to suit your requirement. Want to buy? Visit us today for the best deal to grab this best product to add charm to your home. 
Right Frame 
Do you aspire to give your house an aesthetic look with the house number signs? To make your home entrance equally photogenic, consider buying the right frame that suits your exterior.  In case, a rectangular shape sign isn't going well with your home. Don't hesitate to buy the oval shape designer house number plaque. For your convenience, go for this address plaque:  
Address Plaque Color Core Oval White On Black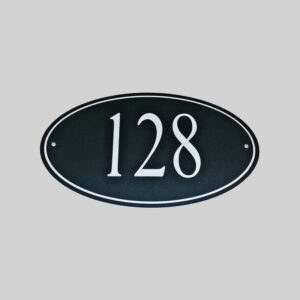 This simple core oval design is created to meet the demand for the white doors of your house. The color of the plaque increases the visibility of the information on the board. Visit us today to buy this good quality board. 
Do you like these house number plaques? Still, if you want to see the latest collection. Go to our website to check the finest plaques now. You can choose us because Mailbox and Sign Services is a professional dealer in address plaques, custom signs, and repair services. 
Mailbox and Sign Solutions is a reputed manufacturer of mailboxes and custom street signs in Florida. We believe the products like mailboxes, street signs, or address plaques are art pieces and our products catch people's eye for years to come. You can also reach us for our repair services, such as Community Mailbox Installation per CBU or Monument sign installation per person-hour.